This year the Redemption National Tournament is taking place at Meridian Baptist Church in Knoxville, TN from Thursday, July 30 to Saturday, August 1st. Unlike some other games, you don't need to qualify to participate, it's open to all players of any age!
If you've never attended a Redemption tournament, let me assure you, it's probably unlike any competitive event you've participated in. The environment is casual, with the primary focus being on fun and fellowship. It's a gathering of old friends and new ones, sharing their love of this exciting game that's based on God's word.
Here's the schedule for this year: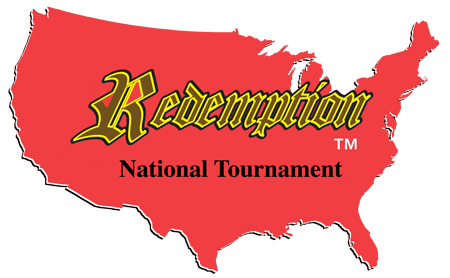 Thursday – open at 8am, start play at 9am
Type 2 Multiplayer 4 rounds
Booster Draft 5 rounds
done at 6pm includes lunch break
Friday – open at 8am, start play at 9am
Type 1 2player 10 rounds
Type 2 2player 6 rounds
*Type A 2player 6 rounds
done at 8pm includes lunch break
Saturday – open at 8am, start play at 9am
Type 1 Multiplayer 5 rounds
Sealed deck 6 rounds
Teams 6 rounds
done at 4pm includes lunch break, this leaves lots of time for awards presentation
Typically the fee structure is that you pay full price for the most expensive event and half price for each additional event. My guess is that will continue this year. Draft and Sealed deck are $15 each while all other constructed events are $10.
You'll want to attend all three days for maximum enjoyment, but even if you can only attend one day you'll still be glad you came. By entering one or more events you'll receive a set of all available National promo cards. There are also plans to release a new set of Redemption cards at Nationals (they won't be tournament legal there but they may be used in the booster draft). You can be one of the first people to get the new cards!
Start making plans now to join us in Knoxville this summer!
To buy singles, sealed product, and other gaming supplies, please visit Three Lions Gaming!