Romans 6:6 says this:
knowing this, that our old self was crucified with Him, in order that our body of sin might be done away with, so that we would no longer be slaves to sin;
We are all slaves to sin before our savior redeems us. As we set out to develop The Fall of Man, a set that points us towards the need for a savior, we came up with the concept of expanding upon a classic staple The Amalekites' Slave. 1 Samuel 30 tells the story of David pursuing a band of Amalekites to rescue his Captive Wives. Along the way, he encounters this man who was left for dead "I am a young man of Egypt, a servant of an Amalekite" (1 Samuel 30:13) the Amalekites Slave helps David by telling him where to find the Amalekites he's chasing. When we printed Amalekites' Slave in Rock of Ages we represented his story by showing his servitude in that he was captured and became a lost soul. We've followed this general idea with a number of new cards this year, Each one has a self-capture ability, a secondary benefit and an add to battle ability. You've already seen one of these with David's Servants from the Moabite article.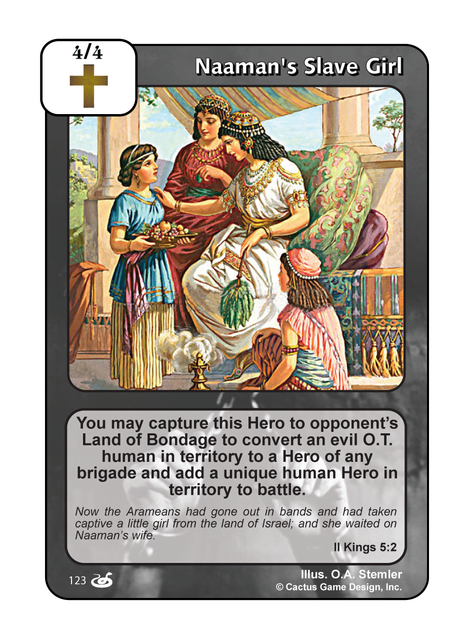 Naaman has long been a really good card, and people have tried to make his self-conversion work in Red/Gray decks for as long as he's been out, this year we decided to make that a little easier with a reprint of Servant Girl who had a similar "Slave' ability when we first printed her.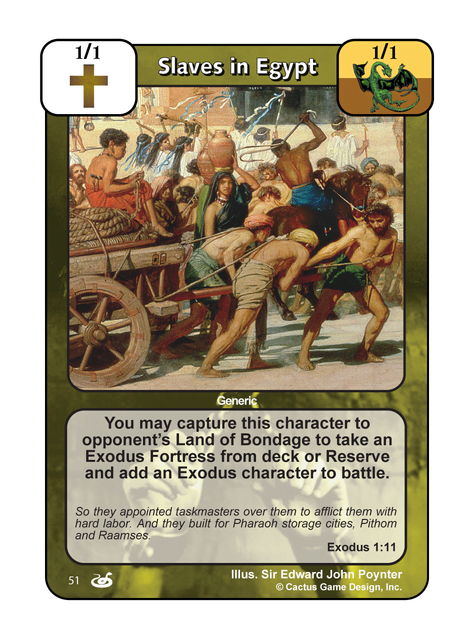 The Israelites who built Raamses and Pithom get represented here by the ability to get either of those cards, (Plus a few others that might be handy like Goshen and Pharaoh's Throne Room)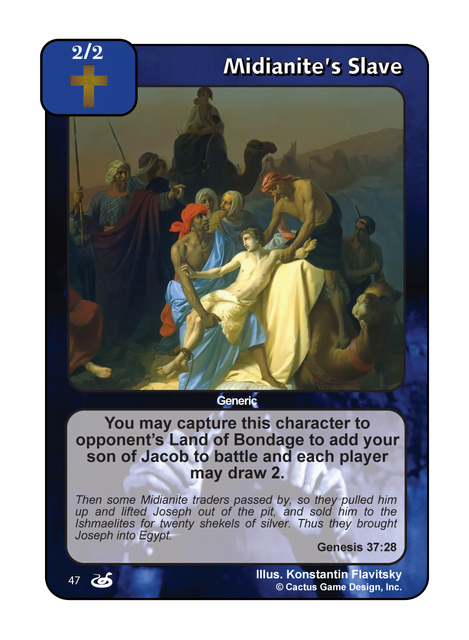 This card is a generic representation of the various individuals that the Midianites took captive. The most notable one is Joseph, sold from the Pit of Dothan for 20 Shekels, represented by the benefit of drawing 2.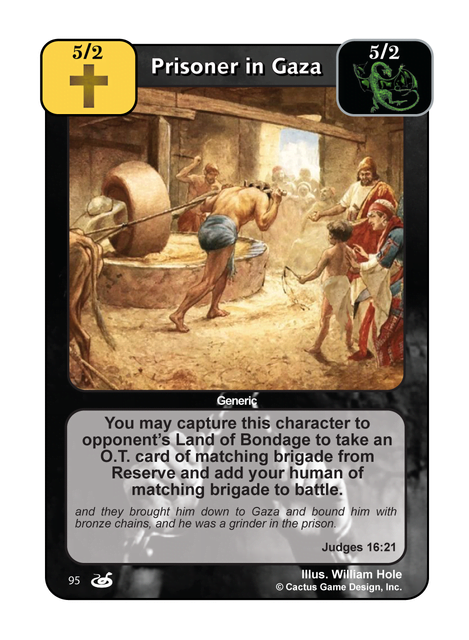 Another generic representation of the millers and grinders in the Philistine's prisons, which is where Samson was brought after Delilah's betrayal.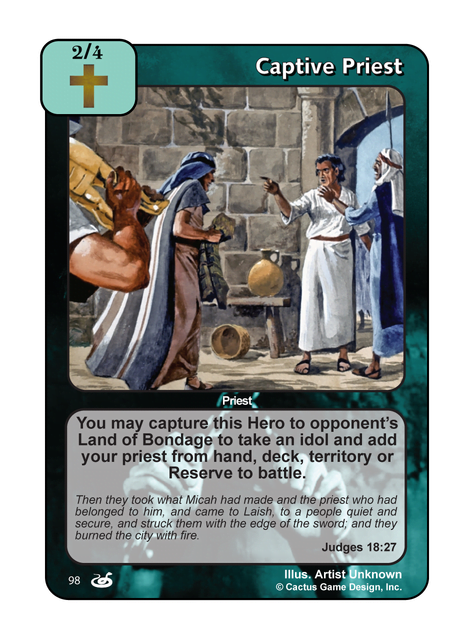 One of a few Teal cards we fit into the set is from Judges 18, which tells the story of the Danites seeking territory, we've previously used this story for the card Danites Attack The story deals with Idols and Graven Images, and an unnamed Levite. It's not entirely clear if the Priest was willingly employed by either the Danites or Micah, so we don't think it's much of a stretch to call him a Captive.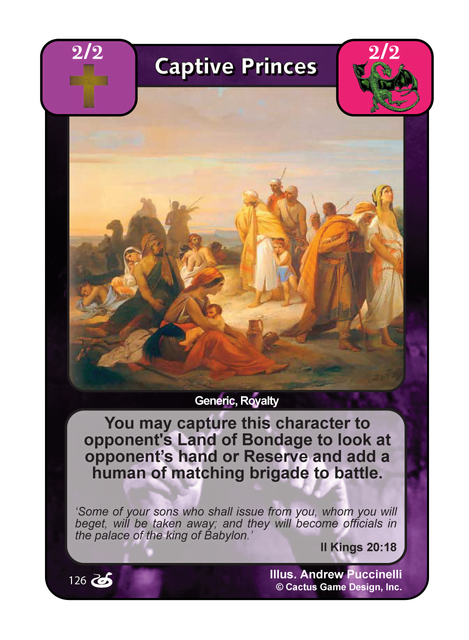 We attempted to get a 'Slave' card for each good brigade into the set. This card originally started out as a little-known character called Ziba who served David and Saul it was a perfect fit for the set as Ziba eventually betrays David, unfortunately, we realized that our standards for brigades didn't make Ziba purple and so we found a new story and title.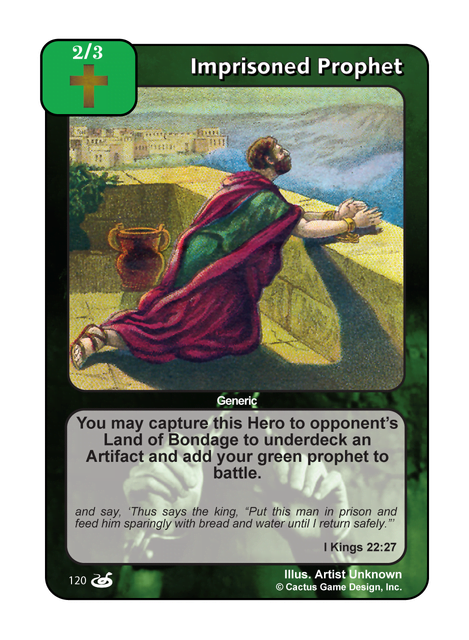 And here it is ladies and gentleman, the only pure green card in the set! In a set pulling heavily from the Pentateuch, it was a little tricky for us to get green cards into the set. Also, as alluded to in Gabe's intro article and my cities article, we have a plan that will see a lot of green opportunities in the next few years. There are two other part green cards on the list, but I'm not at liberty to disclose even so much as the names.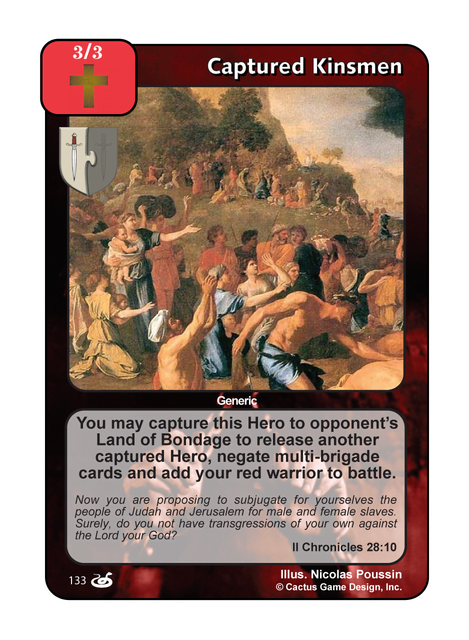 Our last 'Slave' card is for Red. Now experienced players will have immediately noticed that these self-capture cards have the potential for huge synergy with Abram's Army we've attempted to limit these combos by requiring an extra step, none of them allow you to add Abram's Army directly, on most of these cards the way that we've limited the add to battle is subtle. Unfortunately, on the Red Warriors slave, it was never going to be easy. We decided to go with negating multi-brigade cards, which will stop your Army but also has huge benefits offensively, stopping popular cards like Fire Foxes and Damsel with Spirit of Divination.
We think these cards will go a long way towards eliminating 'Soul-Drought' and also have some pretty fun applications beyond that.
Also, as a bonus, one more preview of the card that started it all: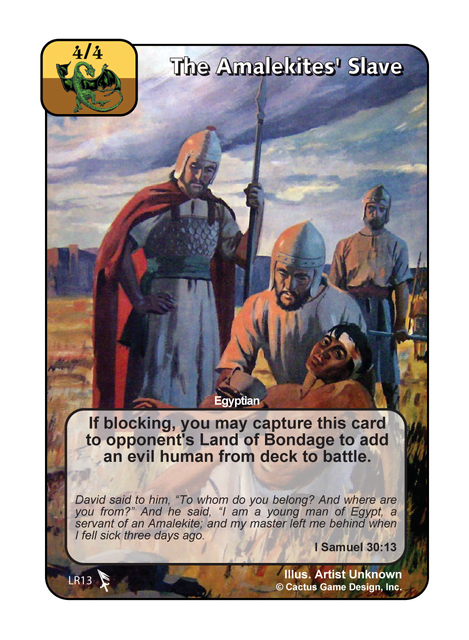 To buy singles, sealed product, and other gaming supplies mentioned, please visit Three Lions Gaming!