If you tuned in to yesterday's promo preview, then it should be no surprise that we're printing the other community created card as a promo this year too. An all new version of Paul is coming to clay decks everywhere!
In case you missed the process, we had a two way tie when the community voted to choose the card we would create together. When we held a second round of voting to decide between The Watchman and Paul, the winner was decided by a single vote! Clearly the people wanted both!
As the process continued the version of Paul the community created together looked like this:
In our testing that version of Paul turned out to be extremely powerful and extremely splashable. Being territory class meant that he was like an Artifact or Fortress with legs. Being CBN meant that nothing was going to stop him. That's a combination that we found was simply too powerful.
One of the best uses I found for Paul in his original form, was to answer to some of the BoM decks most common counters. Cards like the "Punisher" Lost Soul and Hezekiah's Signet Ring give the BoM problems. Paul takes care of both and doesn't get negated by Moses! And since many of the Enhancements in that deck are half clay he can use them all!
It doesn't seem right that Paul would be as good or better splashed into an O.T. offense than he would among his fellow missionaries and clay Heroes. We looked as a number of options to remedy the situation. We considered requiring all your Heroes to be N.T. for him to work. We also looked at using variants of some of the other abilities submitted by the community during the voting.
In the end we decided to keep the ability as close as possible to what the community chose. The best way to do that was to remove territory class from Paul all together. The scriptures paint a picture of Paul being a very active and engaging man, so requiring him to enter battle to use his ability also feels more in line with who Paul was.
The version of Paul we settled on looks very similar to what the community created: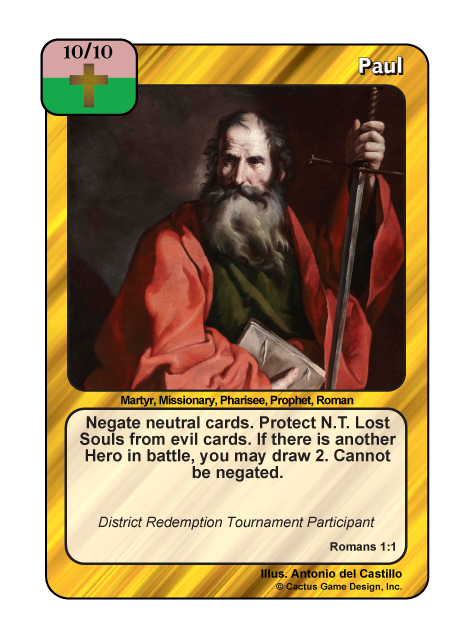 Without the territory class we made a slight modification to the draw ability to make it function correctly. Those with a keen eye will also notice a new identifier on Paul that we haven't seen used in the game before. That foreshadows things yet to come…
Join us tomorrow for a sneak peak at the new State Promo!
To buy singles, sealed product, and other gaming supplies mentioned, please visit Three Lions Gaming!