Articles tagged with:
national promo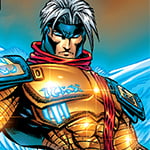 Friday came and went but there were no new spoilers from the upcoming special release of RoJ. What gives?!!
I'm excited to reveal the new National promo for 2017 today! For many of you this is the first time you're hearing that The Tabernacle is getting a sweet new reprint. But a few savvy readers found an easter egg we hid here on Land of Redemption a little while back revealing the card title.