In 2016 Cactus Game Design began offering some new incentives for people attending the National tournament. The tradition continues this year with some exciting new twists to help us celebrate a milestone 25th Redemption National Tournament!
Participation Promos
Each day when you complete a category at Nationals 2019 you will get a set of this year's participation promos! If you haven't seen these yet you'll be blown away by this awesome Son of God and New Jerusalem pair that are just begging to be played together!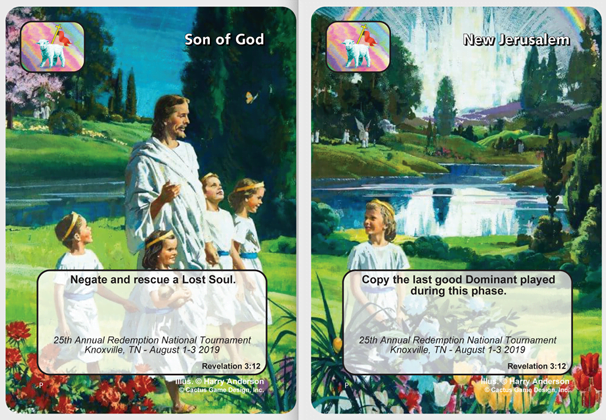 Three New Winner Promos
Ever since the special winner promos at Nationals began the tradition is that third place gets an alternate Angel of the Lord, second gets the AotL plus another card and first gets AotL, the 2nd place card and an alternate Son of God.
That's going to change a little bit this year since Son of God and New Jerusalem are the participation promos. First, second and third place for all events will all receive a borderless, alternate art Christian Martyr!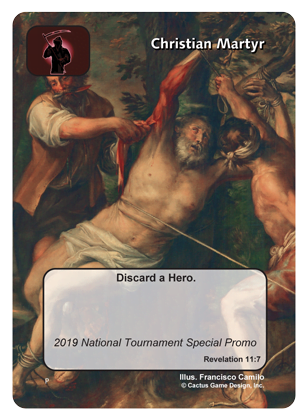 Similar to 2016 and 2017 we've chosen a powerful angel for the second and first place winners of each category – a classic TSA!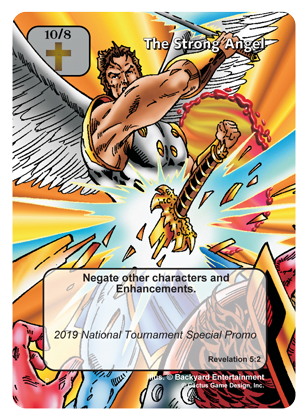 Finally, if you have the skill, luck, perseverance and determination to win a category at this year's National tournament you'll receive a borderless version of the staple Lost Soul "Darkness"!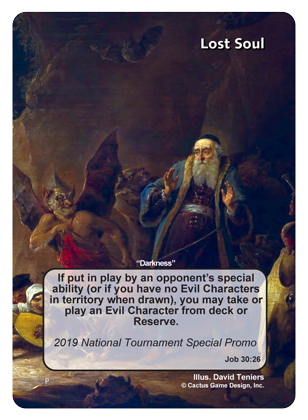 Create a Card
Ever since 2016 the winners of select categories have been given the opportunity to make their very own Redemption card to be featured in upcoming set. We've seen some really amazing, really creative ideas come from this! We're excited to continue the tradition again this year!
We've decided to expand beyond last year's 2 creation winners and offer this opportunity once each day at Nationals 2019. If you'd like a chance to create a Redemption card these are the categories you'll want to play!
Thursday – Booster Draft
Friday – Type 2 Multi-Player
Saturday – Sealed Deck
You may notice that for the first time since the card creation award began it is not being offered to Type 1 2-Player. You'll find below that there are other incentives being added to that category so we wanted to spread things around.
If a Redemption Elder wins one of the above categories the card creation prize will be passed down to the next eligible place in the category.
Top Cut Promo
The top cut is back again this year for Type 1 2-Player along with a new prize for anyone skilled enough to make the cut! That's right, you asked for it, you got it! This year people who "cut" will receive this cool alternate border Priest of Zeus!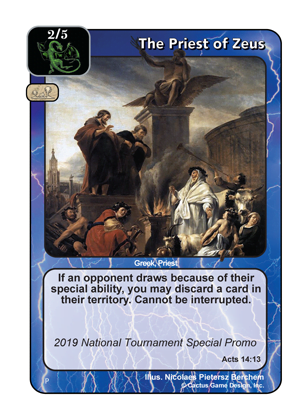 Tournament Worker Appreciation
To pull off a National Tournament successfully there is a tremendous amount of work that goes on behind the scenes! As a thank you to those that sacrifice their opportunity to play in order to serve the community and facilitate the event, Cactus Games will be offering this full art BoM to tournament workers this year.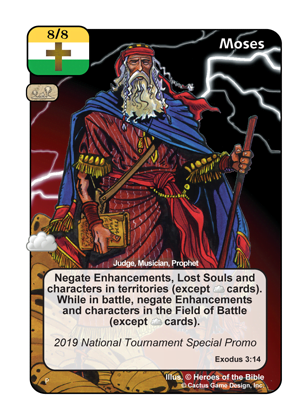 Register Now!
This year's host, Chris Fachman, has posted the schedule and other tournament detail on the Cactus Game Design forum. If you haven't already pre-registered, now is a great time to do that! Just follow the link below.
National Tournament Registration
(note: you will be able to change registration details later if you want)
See you at Nationals 2019!
To buy singles, sealed product, and other gaming supplies mentioned, please visit Three Lions Gaming!