Today we are excited to share with you a few more Prophecies of Christ phase 2 previews, courtesy of Justin:
One of my favorite song lyrics of all time comes from that classic of classics "Jonah: A VeggieTales Movie." In the second verse of the song "In The Belly Of A Whale," there is a line which I have always considered brilliant in its descriptiveness and simplicity: It might behoove me to be heaved.
While certainly being really fun to say, this line also serves as an important personal reminder that sometimes the best thing for me to do is to stop striving by my own strength and let God take over—especially when I find myself in a pretty tough spot like Jonah did. Now that tough spot could be the consequences of my own actions (like it was for Jonah) or it could simply be the circumstances that life brings my way. Either way, I need to remember that God is in control of whatever whale of a problem I might be stuck in, and it will behoove me to let God heave me out of it—in His way and in His timing.
Before Prophecies of Christ phase 1, only three Jonah cards even existed in Redemption: the original and promo versions of Chastisement of the Lord, and the Jonah Hero from the Prophets expansion. Prophecies of Christ phase 1 gave us 8 new Jonah cards, including a new version of Jonah that I expect to see in a lot of decks this season. However, today's article is about the 3 Jonah cards from Prophecies of Christ phase 2. The first is a remake of the classic Chastisement of the Lord.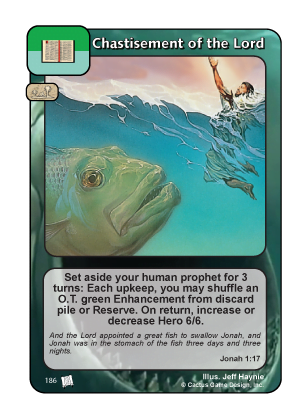 This new version keeps the set aside/increase idea but also allows for some awesome recursion potential as well as the option to decrease the Hero instead of increasing. I bet if you think about it, you can come up with a couple human prophets you wouldn't mind seeing have a better shot at getting initiative (7/8 FooF Isaiah comes to my mind…)
The second card is a * card for Jonah, The Sign of Jonah.
Unlike most of the other * cards, this one will give you an opportunity to increase your starting hand size. The odds are going to be against you having a good dominant in the top or bottom 3, but the odds were stacked against Jonah too and God came through for him. The regular ability also provides some really nice versatility and I can definitely see this card being used in more than just "Jonah" decks.
The last card of today's preview might remind some of an Evil Character from a few sets ago, Kings of the Earth.
Like with Kings of the Earth, the player gets to choose a brigade and nationality for Pagan Sailors when they are put into play. They also get a really fun ability that relates very well to the story as they threw anything they could off the ship in order to survive the storm. Tubal-Cain from the Fall of Man set opened up some new possibilities with being able to surprise the opponent with a different Artifact and now Pagan Sailors serve to enlarge that strategy. Some of those Curses that Gabe previewed the other day seem like they will be really fun to activate after the opponent has pushed a Hero into battle…
Keep an eye on the Redemption forum and here on Land of Redemption for more previews of Prophecies of Christ phase 2 in the coming weeks!
To buy singles, sealed product, and other gaming supplies mentioned, please visit Three Lions Gaming!