The newest release for Redemption, Prophecies of Christ, is set to release in early December! We've got LOTS of great details about the set to share with you today!
Phase 1 & 2
Prophecies of Christ is being released in two phases. The first phase, coming out in December 2018, consists of 129 cards. Phase 2 consists of 93 additional cards and is scheduled to release in May 2019. The entire 222 card set will be combined into one package sometime before Nationals 2019.
Similar to other 129 card sets, phase 1 will contain 90 common, 36 rare and 3 ultra rare cards. Phase 2 will offer an additional 72 common, 18 rare and 3 ultra rare cards. We will also get 18 new Legacy Rare cards this year. It's not entirely clear yet if the Legacy Rares will be packaged with phase 2 or if they will be saved until both sets are combined.
Distribution
Both phases will be packaged in card boxes that contain 15 cards. They will consist of 5 new Prophecies of Christ cards (4 common and 1 rare/ultra rare). The additional 10 cards will be comprised of 4 Faith of Our Fathers, 4 Rock of Ages and 2 Women of the Bible cards.
Additionally, instead of 1 ultra rare card per box, each box will contain 2 ultra rare cards! When both phases are combined those 2 ultra rares will be from Prophecies of Christ. But during phase 1 and phase 2, one of the ultra rare cards in each box will be from Prophecies of Christ and the other ultra rare will be a special treat that we'd all love to get our hands on – a borderless Shipwreck, The Second Coming or Three Woes!!! We've seen borderless The Second Coming and Three Woes before in the alternate border sets, but borderless Shipwreck is an exciting new addition to the borderless card pool!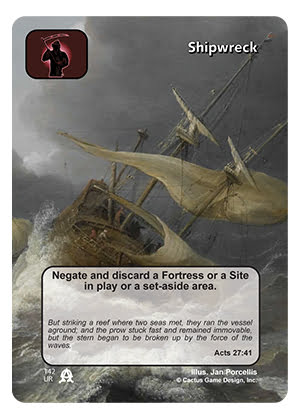 Ultra Rares
After printing back to back sets (Cloud of Witnesses and Revelation of John) with "chase" ultra rare cards we decided to take a break in Fall of Man from creating high demand ultra rare cards, and attempted to keep them all closer to an even level of playability and power. We had planned to follow that same trend across the entire block of "Christ Centric" sets we have planned for the next few years. But after reviewing sales of the past 5 sets, we've found that sets which contain a "high demand" or "chase" ultra rare (Early Church, Cloud of Witnesses and Revelation of John) outsell sets that do not contain one (Persecuted Church and Fall of Man) by a margin of 2:1 or more!
While we know that there are players that would prefer fewer "chase" cards, sales are necessary for the game to be successful. The majority have voted with their purchases in favor of having "chase" ultra rare cards. Therefore, we've changed direction and will attempt to have a "high demand" ultra rare in phase 1 and phase 2 of Prophesies of Christ. This change in direction is part of the reason for the increase to two ultra rare cards per box.
Final Card Images
Due to our transition between editors, the previews for phase 1 have all be posted on the Cactus Game Design forums instead of Land of Redemption. We will continue to reveal some of the changes that have taken place to previewed cards there. But expect the all the final images to be posted here on Land of Redemption later in November.
Preorder your Prophesies of Christ sets and boxes at Three Lions Gaming!