Over the past few years, Redemption has journeyed through a block of sets that took us from the introduction of the church in Acts through many of the new testament events and epistles, ending with a culmination in Revelation. Bryon Hake brilliantly set us on that path years ago before his departure from the leadership team. As we neared the end of that journey our elder team began discussing what our future sets might look like…
We tossed around a lot of ideas, several of which will be incorporated in the next block of sets. We're about to begin a block that explores the role of the Messiah throughout the scriptures! If you're familiar with Matthew, Mark, Luke, and John you probably know those 4 books, called the Gospels, are solely about the life of Jesus. But did you also know that the entire Bible, from beginning to end, is about Jesus? It's true! From the very first page to the very last, all of the scriptures point us to our need for him!
As we begin a new journey that explores the Savior talked about all through scripture, we need to have a good idea of why we even need a Rescuer. What do we need to be rescued from?
The Fall of Man
Back in the Garden of Eden, in God's perfectly created world, the first man and the first woman chose to rebel against God. They were given the freedom to do anything and go anywhere except eat from one tree, yet as you probably know from the Sunday school story, Adam stood by holding Eve's purse while she did battle with the snake. When she gave in to temptation he joined her. The seed of that rebellion (sin) has been passed on to every human being since. And boy what a mess we've made! Thus, the next set to be released, the introduction to our exploration of the Messiah in scripture, is titled The Fall of Man.
Before I get into all of the great details, let's take a sneak peek at some of what's to come…
The Garden
It all began in God's perfect garden that he created. The first man and the first woman living in peace and harmony. There was no sin. No Death. No sickness. Everything was perfect!
Speaking of the first man, veteran players can easily guess that if we spend any amount of time focusing on the early part of Genesis that we will see the long overdue reprint of Adam into the blue brigade.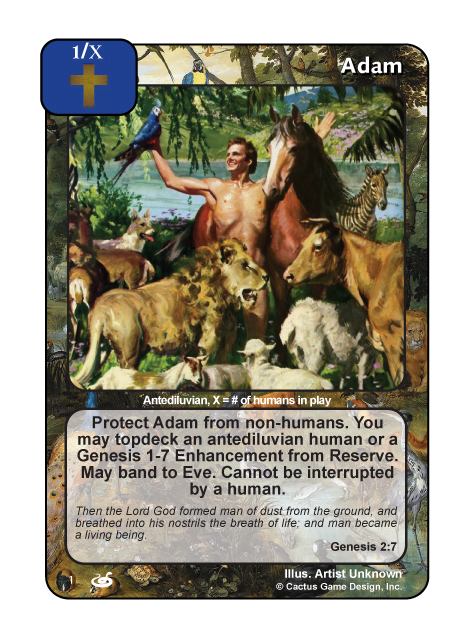 Adam is designed to work well against animals and to interact well with his wife Eve. He can topdeck a specific group of humans from the Reserve, band to his wife and Eve will grab them off the top of the deck for you!
He can also topdeck a Genesis 1-7 Enhancement. That list of already existing cards is more impressive than you might first think, including cards like The Flood, Obedience of Noah, Creation of the World, Flaming Sword, Death of Unrighteous, Wickedness Abounds and Cain Murders Abel to name a few. Of course, we're adding a few more to that list too.
While Adam and Eve were living happily in the garden they were given only one rule to follow.
The Lord God commanded the man, saying, "From any tree of the garden you may eat freely; but from the tree of the knowledge of good and evil you shall not eat, for in the day that you eat from it you will surely die." Genesis 2:16-17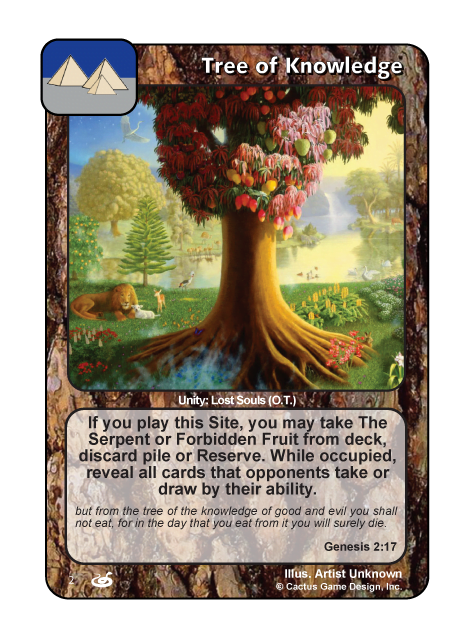 This Site can get you one of the two cards closely associated with the Bible story. The Serpent is already a staple in many decks due to his powerful restrict ability. But the true power of this card is like the title says – in the knowledge you can gain from it. Knowing the tools your opponent has to use against you allows you to play your cards for optimal effectiveness! If you don't know what the Unity identifier means, please check out Josh's explanation.
You might not be familiar with Forbidden Fruit (Wo), but if you are then you're aware that it's in dire need of a reprint.
Humans of both alignments have access to use this card, but gain different benefits depending on how it's played. Heroes gain knowledge of another player's hand and either a good or evil Enhancement (it is called the Tree of the Knowledge of Good and Evil after all). Evil Characters get to convert Heroes until the end of the turn to represent the turning from God that Adam and Eve did.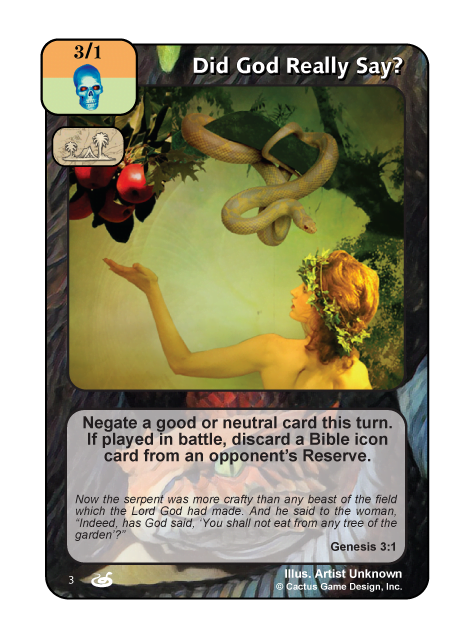 Meet the first card that negatively targets the Reserve! The Serpent lied to Eve to get her to question God's word – His very character. To represent that, this card attacks the word (Bible icons) in two ways, via negate and if played in battle, via discard.
Curses!
Welcome to the set's title card! Since God did not intervene but let Adam and Eve make their own choice, we thought this would be a good place to limit the use of the "god-type" card in Redemption, Dominants, when this Curse is used as an Artifact.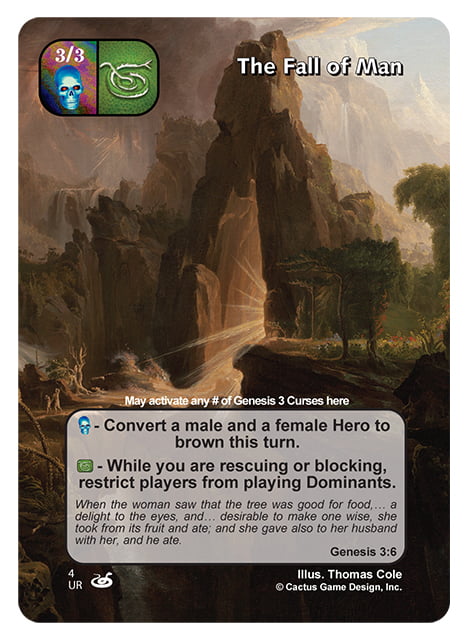 As an Enhancement, you can convert two opposite gender Heroes to brown (the color of rebellion), but only temporarily. After all, God did come along and offer the first animal sacrifice to redeem them (something he would do Himself someday in the form of Jesus Christ).
But with that atonement, he also gave out Justice in the form of a Curse directed at each of the three characters involved in the rebellion in the garden that day. All three can be activated on The Fall of Man when it's active as an Artifact!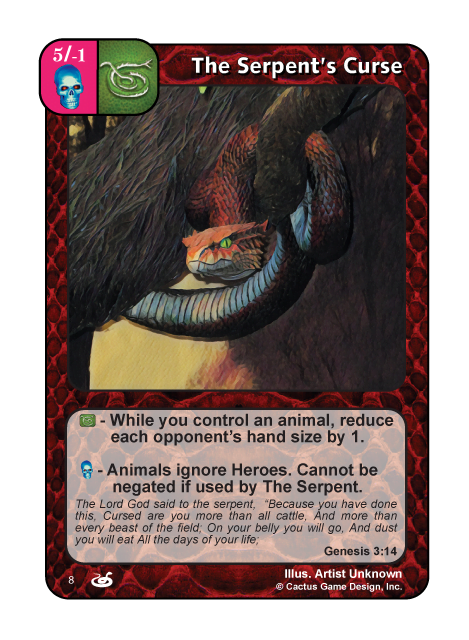 This is an obvious inclusion in any animal defense and especially potent if you can play it on The Serpent. As an Artifact, it shrinks the opponent's hand, which is doubly powerful when used alongside Death (RoJ).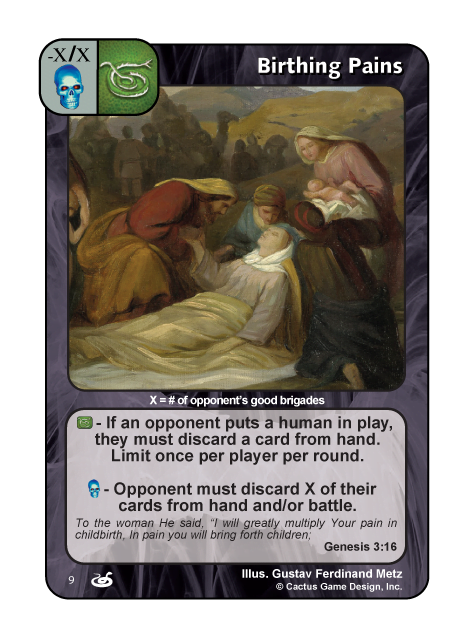 Like the punishment Eve is given, bringing forth new humans is going to be painful for your opponents while this is active as an Artifact. If you're fighting a war of attrition that might yield the best results. But if your opponent takes off to a fast start and gains a sizable lead on you, especially if they're sporting many good brigades, the instant results from the Enhancement side are undeniable!
Adam was cursed to toil so as an Artifact this will ensure your opponent has to work for every Lost Soul they rescue. No freebies. But just as laborious work can sap the life out of you, the Enhancement side might be the brown decrease theme's most powerful tool yet!
Give Me Those Details!
As you might have noticed from the preview images, we're doing some things differently this time around. The initial set release will contain all alternate border cards. That's right! The alternate border is the new normal! That does mean that we won't have a special release at Nationals this year, but you get all the cool looking cards right up front.
Cactus Game Design has agreed to include 5 new cards per card box! There will be 4 commons and 1 rare. Like other recent sets, there will be 1 pack per box where the rare is replaced with an ultra rare. To accommodate the extra common card per pack the set size has increased to 147 cards.
While today's previews focused strictly on Genesis chapter 3, man's depravity is found all throughout scripture. We haven't focused in on only one story, not one book, not even one testament, as we explore The Fall of Man.
The Fine Print
The cards we're previewing are not yet in their final form. While we try to select cards that we feel are close to finished, it's possible some of these cards will change before they go to print. Cards do not reflect rarity yet because rarity has not been chosen for any cards.
To buy singles, sealed product, and other gaming supplies mentioned, please visit Three Lions Gaming!