Sorry, folks, I'm running a little behind on getting the previews up for you this week. Last minute details and questions for Nationals have to take precedence. Nationals is less than a week away!!! Can you feel the excitement in the air? I sure can!
As the last week of previews we're going to swing for the fences. There are two ultra rare cards as well as so many other cool ones we haven't got to share with you yet! While I can't possibly share them all, maybe I can get away with squeezing in a little more than usual…
This first preview harkens back to special border CoW by appropriately applying the blood splatters as seen on cards like Cain and Thrown to the Beasts.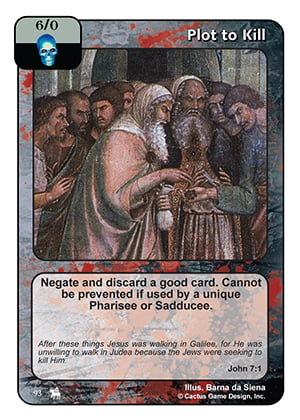 One of my favorite super thematic borders in the set is the three crosses used on Blood of the Lamb.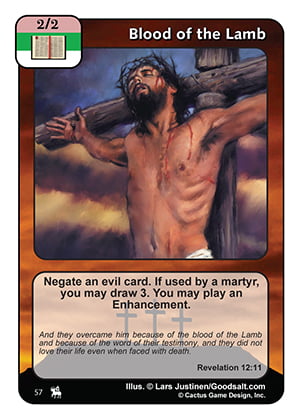 Before we move on to the ultra rare cards I'd like to share a couple other favorites with you. War in Heaven is a really solid card and looks great with full art treatment!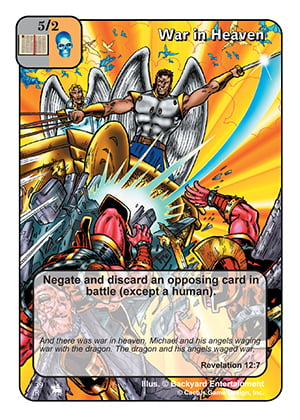 I really like how the border on The Song of Moses turned out. Don't be surprised if we see some variation of this again in the future on a card involving music.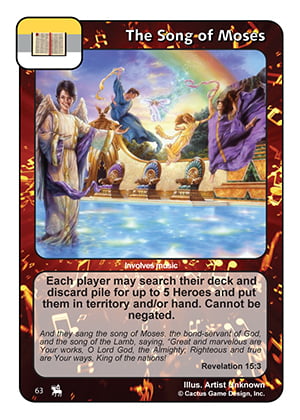 I could keep going and going but I know you're excited to see the borderless ultra rare cards. The original artwork was touched up by a couple talented members of the Redemption community – Daniel and Kariusvega from the message boards!
First, let's take a look at a totally tricked out Red Dragon.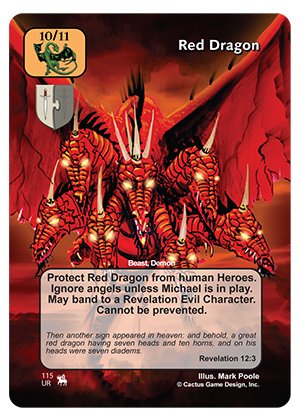 Don't get me wrong, the original art was alright, but it didn't look "bad". The enhanced version looks like a beast to be feared!
The changes made to Michael are not quite as drastic but helped improve the overall feel of the card by improving the coloring and giving the background more of a "heavenly" feel.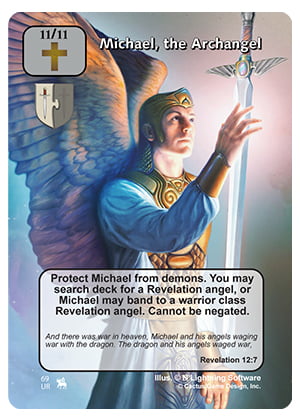 You might think that we should end here, and you'd be correct, except that there's one more related card I feel like I should share. Maybe you never noticed the discrepancy between the sword depicted on Michael and the one depicted on Michael's Sword. We were able to give that some congruency this time around.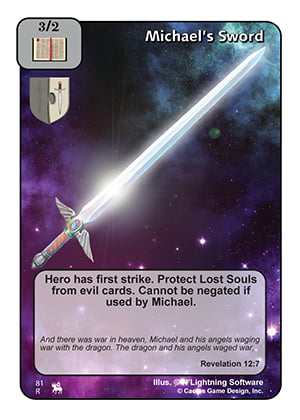 You'll have to wait until Nationals to get a look at the rest of the special release RoJ cards. I've gone way over my limit on previews. If you don't hear from me again you'll know that I've been banished. Otherwise I'll see you at Nationals!
To buy singles, sealed product, and other gaming supplies mentioned, please visit Three Lions Gaming!