---
Are you ready for more previews of some sweet cards you'll get to see at Nationals? Me too!
Last week we saw the awesome new borderless Angel of the Lord that the top three players in each category will receive. Today we're going to take a look another awesome new promo for the top two players in each category. This Hero was chosen not only because he's been a fan favorite for years, but also because he fits so well with the Revelation of John set that was released this year!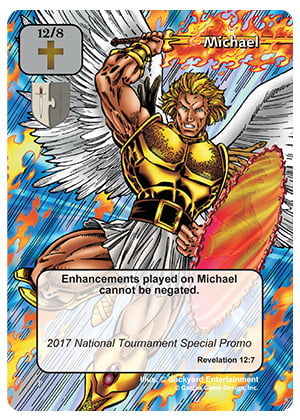 While Michael, the Archangel is pretty amazing, he's not an automatic replacement for the old version. Many players still want those CBN Enhancements! The problem you run into is that the warriors version doesn't have the warrior class shield, even though it has the Revelation reference. The Kings version has the warrior class shield and works great in Daniel decks because of the O.T. reference. Until now if you wanted both warrior class and a Revelation reference you had to use the "Buzz Lightyear" art version Michael. Not anymore!
Special Release Revelation of John!
If you've been following the special release Revelation of John previews then your familiar with our three card format. To kick things off this week's first card has stolen a border from the Nationals Cloud of Witness release. It's been changed up quite a bit to add a glow through the cracked earth. Do you know which CoW card used a version of this border?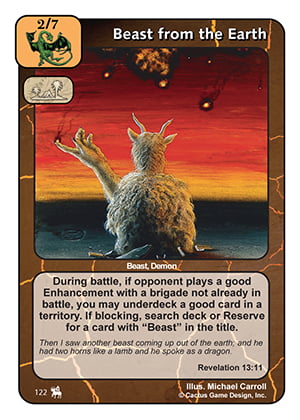 Jesse did a really nice preview article that explained many of the Heavenly Temple Artifacts are related to an earthly "shadow" version. We tried to represent that through some of the border selection of the Heavenly Temple Artifacts, such as this example of the Lampstand of the Sanctuary depicted in the boarder.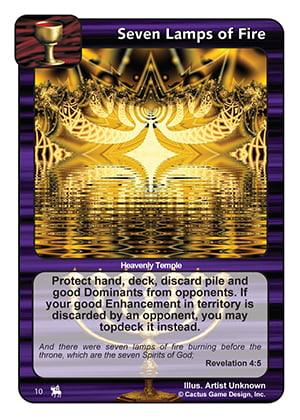 The final preview this week is a card that had it's illustration enhanced for this new release. We gave this card full art treatment, both because it's a rare and also because we wanted to have a better look at the updated illustration!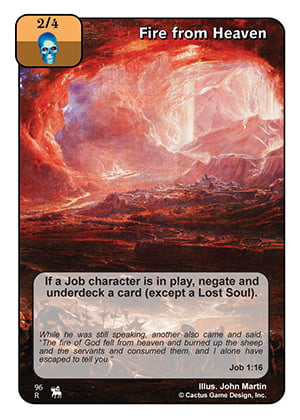 WOW!! Nice job, JD! But I feel like these previews went by really quickly and we didn't even get to see a good card. Do you want to see one more?
What was that? I couldn't hear you…
OK. I heard you that time. But which card to preview…
How about one that's been getting a LOT of hype the past couple weeks?
That border isn't a picture a Coney Island!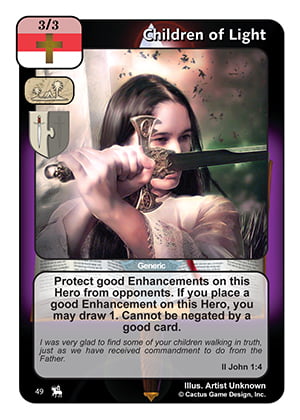 Yep. I definitely need a copy of that!
Be sure to check back next Friday for the final winner promo as well as three more Revelation of John previews!
To buy singles, sealed product, and other gaming supplies mentioned, please visit Three Lions Gaming!