Friday came and went but there were no new spoilers from the upcoming special release of RoJ. What gives?!!
We hosted the North Central Regional tournament this past weekend and had an amazing time! Players joined us from IA, MN, WI, MO and KS. Not to make excuses, but that is where my time has gone. I'm back today to make sure you get those previews you crave. And if time allows we will have new content for you 4 days this week (including today)!
Special Winner Promos!
Normally when a person wins a category at a Redemption tournament they are given a winner promo. Most commonly that's Dragon Raid, Harvest Time or New Jerusalem. At Nationals we like to do something a little different!
We mentioned recently that Cactus Game Design is going to provide special promos to category winners at Nationals again this year. But not just category winners, the top 3 places all get at least one special promo! Each player in the top 3 of an official category gets an all new borderless Angel of the Lord promo!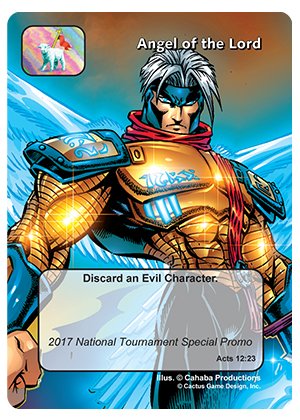 I know everyone has a favorite Angel of the Lord art. Last year we used the Michael Carroll art. This year players that like the Cahaba art get a sweet borderless version!
Check back Friday to see the new "top 2" promo for 2017.
Special Release Revelation of John!
Once again it's time for special release RoJ previews! Following the previous format we're going to share a card that uses a new twist on one of our favorite borders from last year, followed by something really cool and thematic that we like and finally something that just blows our socks off!
Last year the special border animals were done with animal borders that usually depicted a sampling of the animals fur, face or both in the background. We've used that same format this year for animals in RoJ. Devouring Birds features raven feathers and a raven.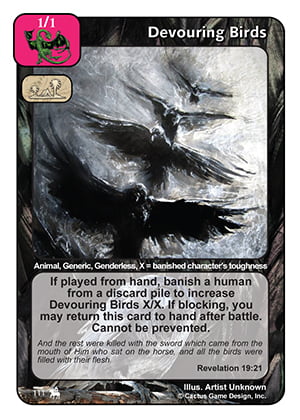 Last year we tied the judges cards together with variants of a border that features a gavel and the scales of justice. Similarly we have tied the Job cards together with variants of a border that features the scene from Dust and Ashes.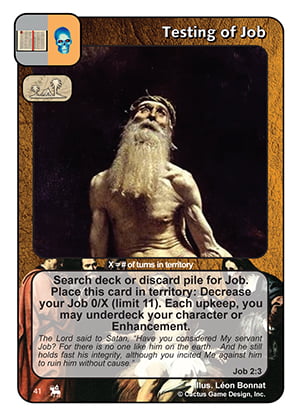 One of the fan favorites among alternate border CoW cards are the astro border Lost Souls. We love them so much we made all the Lost Soul cards astro borders again this year. Let's take a sneak peak a Lost Soul that is seeing a lot of competitive play.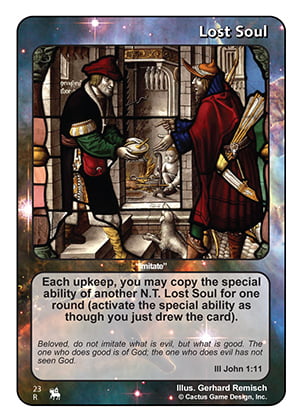 Check back at the end of the week for another round of exciting previews!
To buy singles, sealed product, and other gaming supplies mentioned, please visit Three Lions Gaming!