Are you looking for a chance to be immortalized in Redemption history by creating a card in the 2018 set? We've made an important change this year! Are you excited to see more of the fancy looking new version of Revelation of John cards being released at Nationals? We've got three previews for you today!
Card Creation Contest
The National category winner cards have been some of the most popular over the past two years. We offered the prize to three winners at both Nationals 2015 and 2016. With all the excitement this opportunity brings to the community it's something the elder team wants to continue at Nationals 2017 although with one important change, we're going to add a new category to the winner list! The 1st place winner in these four categories will get to create their own card to be released in the 2018 expansion!
Booster Draft
Type 1 – 2 Player
Type 2 – 2 Player
Sealed Deck
If you're familiar with the Nationals schedule you'll instantly recognize that while it will be difficult to pull off, the same player could win three of those categories and get to create three new cards! The hopes and dreams of winning the "Triple Crown" Josiah mentioned on the boards could be real!
The same rules that outlined the creation of the card in the 2015 announcement still apply.
Winners will need to submit their card ideas by September 1st, 2017.
Winners may make any existing card type they wish, except a Dominant.
Submitted cards will be put through the normal testing an development that all cards go through. Play testers will work with the winners in an attempt to keep the integrity and effect of their card true to the original intention. We cannot guarantee that the card will be printed exactly as it's submitted.
If you still haven't made plans to get to Nationals it's not too late. If you haven't pre-registered yet please let us know you're coming! Don't miss your chance to make the game's next Coliseum, Confusion, Word of Their Testimony, Covenant of Prayer, Not Alone or The Ends of the Earth!
Special Release Revelation of John!
These are so many possibilities when creating the special border cards for Nationals. We like to keep each card unique by not repeating the exact same border. But some are so cool, or so thematically appropriate that we like to modify them and use them to tie certain cards together.
Priest of Christ is an example of a card that uses a border we really liked for a couple of the "priestly cards" in Cloud of Witnesses. As will almost always be the case, it's been modified so that it's coloring is unique from last years cards.
Some cards get a cool new border that's extremely thematic to what they represent in the game. Merchants of the Earth uses a border composed entirely of ancient coins!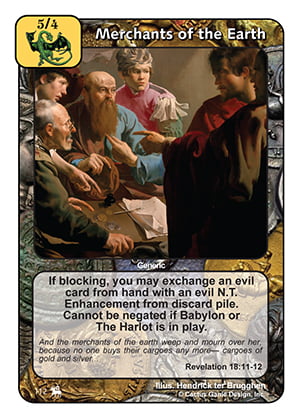 There are some cards that we want to represent thematically but don't always know how to do it well. Our last preview is one of those cards. We were having a hard time coming up with a way to represent the majesty of God through a card border when JD came to our rescue. He combined mountains and stars to show off not just one representation of God's majesty but two!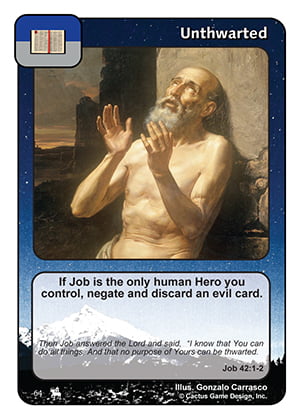 Please join us next Friday for more National Release Revelation of John previews and news about the National promo!
To buy singles, sealed product, and other gaming supplies mentioned, please visit Three Lions Gaming!