Each year the Redemption National tournament is an amazing time! For starters you get to play LOTS of Redemption with a larger variety of people that you can experience anywhere else. You get to meet new people who share your passion for the game. If you've attended Redemption tournaments in the past you'll most like get reacquainted with old friends. That alone is more than enough reason for you to join us in Iowa this August! But just in case you wanted more…
Type Half
One of the side events we will be holding is for a game variant that is very popular with our local youth group. They call it "Type Half". You might have seen it referred to on the message boards as Type 3. If you've ever tried it you know the games are quick and it's a LOT of fun!
Isaac Miller (Ironisaac on the boards) plans to host this as a weekend long side event. You can enroll at any time for $5. You'll received 10 "token cards" that are unique to you. Win you win against another Type Half player they will give you one of their token cards. On Saturday afternoon, at a time yet to be determined, players will turn in all of the tokens they have collected so we can tally the final scores. Prizes based on participation will be given in the form of RoJ packs to the three players who collect the most tokens from different opponents.
These are the deck building and game play rules for Type Half:
4 Good Characters
4 Good Enhancements
4 Evil Characters
4 Evil Enhancements
4 Lost Souls (no 2 or 3 Liner Lost Souls)
5 Others (Includes Sites, Fortresses, Artifacts, Covenants, Curses, and the Hopper Lost Soul)
0 Dominants
If a card could fit more than one grouping, the player may determine where it is allocated.
Total deck size for all Type Half decks is 25 cards, exactly half of the minimum deck size for Type 1.
Additional things that make Type half different than other Redemption formats.
Opening hand is 4 cards.
Draw 2 cards per turn.
Hand limit at end of turn is 4 cards.
Rescue 3 Lost Souls to win.
Souls may not be placed into sites.
The cards used in your Type Half deck may not be part of a deck you are using in any official event.
Special Edition Revelation of John
The Nationals only special release of Cloud of Witnesses was such a success that Cactus Game Design is going to do it again! Revelation of John cards are available only at Nationals 2017! Expect fancy new borders on several cards! Expect some amazing borderless ultra rares with graphic upgrades from some of the Redemption communities favorite graphic designers! Expect new and unique card designs unlike the Cloud of Witness special release of 2016!
There will be previews of a small number of the special border cards here on Land of Redemption over the weeks leading up to Nationals. Each of the card creation winners chose something unique for their card. I'll give a small sample today and share Covenant of Prayer.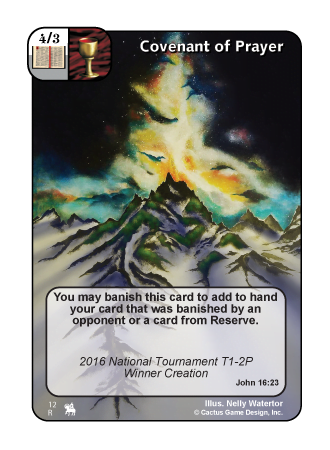 I like Nelly's artwork so much that I just wanted to show it off better!
Special Winner Promos
Another huge success from 2016 that will be repeated in 2017 are the special promos for the top three places in each category. To keep these promos special, there will be an all new set given out to the winners in 2017. While we're not ready yet to say what those are they will be given out similar to last year where 3rd place got a borderless Angel of the Lord, 2nd place got the AotL and a full art Captain of the Host and 1st place got AotL, CotH and a borderless Son of God!
That's a lot of exciting news for one day. Check back soon for special RoJ previews, information about the 2017 winner promos and details about a new National promo and changes to the card creation prizes! If you haven't pre-registered for Nationals, be sure to go do that now!
To buy singles, sealed product, and other gaming supplies mentioned, please visit Three Lions Gaming!