As Gordon Gecko once said: greed is good. And that's why all of today's cards deal with MONEY!
We added these three cards onto the list in the middle of the playtesting process. We were told we had nine more slots to work with and we came up with these as part of that set.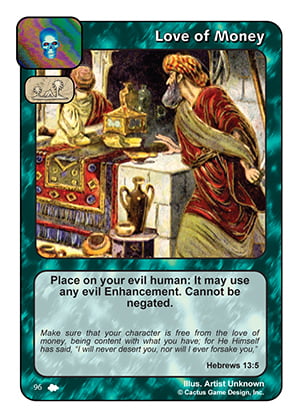 Have you ever thought of two cards that would be awesome together, but they're in different brigades? Well this card fixes that problem, allowing you to come up with some pretty cool combos, It's accessible to every defense too. But watch out – having multiple brigades in play like this can be dangerous!
These two cards provide a Gamaliel's Speech effect targeting artifacts – As people get greedier with having multiple artifacts, the ways people have to deal with them need to progress beyond Destruction and Captured Ark. These two cards, which are accessible to every human brigade and get a mini-boost for one of their respective colors, help deal with those issues. Treasures of War also boosts an old card, can you figure out which one?
Until next time, don't get greedy!
To buy singles, sealed product, and other gaming supplies, please visit Three Lions Gaming!