Nationals Day 1 Judges Report
In case you haven't heard, we have a new Glory of the Lord promo for this Nationals. The special ability is the same, but it's been given a sweet new border!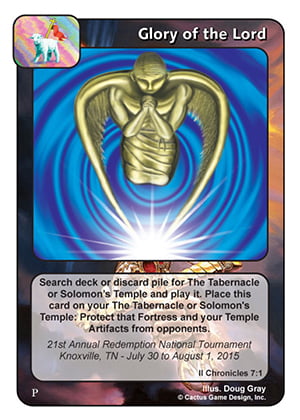 Day one of Nationals is in the books! Attendance was great, with 59 eager players throwing down. We played two categories, Type 2 Multi-Player (T2MP) and the highly anticipated Booster Draft!
Congratulations to all of our winners today (click on names for pics:
T2MP:
Justin Alstad (1st) – played Disciples/Peace and Magicians
Tyler Stevens (2nd) – played an offense with various combo pieces including Michael, Daniel, David, Ahimelek, Spy, ET and a Pharisee (splash brown) defense
Steve Kamke (3rd) – played Clay/Disciples/Paul offense with a Pharisee defense
Booster Draft:
Daniel Huisinga (1st)
Patrick Chaverri (2nd)
Jay Chambers and Josh Knitt (3rd, tie)
We also handed out RNRS prizes!
T2MP:
Justin Alstad (1st)
Dayne Maust and Charles Johnson (2nd, tie)
Booster Draft:
Josiah Beers (1st)
Patrick Chaverri (2nd)
Jordan Alstad (3rd)
The draft was a ton of fun – With the players having 120+ cards to build from, I saw a ton of crazy good looking decks as I did deck check. In the end, Heroes won the day, as Daniel had at least 15+ in his territory that I saw at one point. Having plenty of options to attack is always a good thing.
T2MP was very interesting! I saw a few deck ideas that I didn't expect, multiple people brought Genesis offenses to the tables, and I didn't see nearly as many spread judges offense as I expected. I also didn't see a single copy of Nazareth, which makes me pretty disappointed that I didn't bring an ANB deck with me.
This was also where we had the only weird/tricky ruling question of the day. We had a player bring Greeks with Abomination of Desolation and Priest of Zeus to a multi event, and we had a difference in opinion between elders on who activated the ability on the "Rejoice" Lost Soul. For this tournament, we determined that it would be the player who owned the soul. This is something we're going to be talking about in the very near future.
We also had the return of Redemption Legend – Chris Bany, who helped even out our category number, bringing us from 11 to 12, so we could play 3 tables of 4, which works much better in multiplayer.
We're back tomorrow for Type 1 – 2 Player & Type 2 – 2 Player. We're hoping to pick up a few more players. Chris Fachman has been an awesome host thus far, and tells me we have more players pre-registered than what showed up today.
To buy singles, sealed product, and other gaming supplies, please visit Three Lions Gaming!