The Parable of the Lost Sheep –
"No soldier in active service entangles himself in the affairs of everyday life, so that he may please the one who enlisted him as a soldier" II Timothy 2:4
That doesn't look correct does it? That's the verse on the promo version of Seeker of the Lost.
It was misprinted, clearly the proper verse should be Luke 15:4 – "What man among you, if he has a hundred sheep and has lost one of them, does not leave the ninety-nine in the open pasture and go after the one which is lost until he finds it?"
This verse, and the four that follow it form one of my favorite stories, and one of the most beautiful promises in the Bible.
The parable goes on to say:
When he has found it, he lays it on his shoulders, rejoicing. And when he comes home, he calls together his friends and his neighbors, saying to them, 'Rejoice with me, for I have found my sheep which was lost!' I tell you that in the same way, there will be more joy in heaven over one sinner who repents than over ninety-nine righteous persons who need no repentance.
We are God's lost sheep. How wonderful is it to know that we have a Great Shepherd who loves us so much, he seeks out 100% of us! He doesn't look at the 99% and say, "Eh, that's good enough". He goes and finds every last one of us!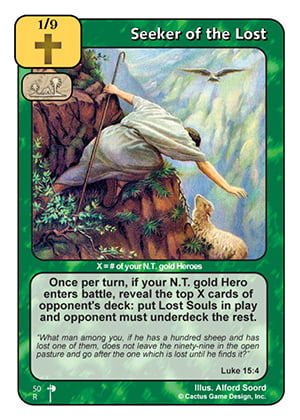 This card continues the theme of Gold's soul searching. We felt that the original Seeker ability was appropriate, but didn't always find the lost sheep, or soul in this case – 3 was just too small of a number. We also didn't want Seeker just splashed into every deck, thus the N.T. Gold contributing to the X value.
When we first added this on to the list, the ability revealed a single card, and repeated until it revealed a soul – Indicative of the shepherd continuing his search. In the end we decided it was very similar to Created by Christ, so we modified it to be a mass reveal instead.
In a well-built N.T. Gold deck the X value can be quite large, 8 or 9 easily, and you still get the advantage of whatever Heroes ability you're rescuing with. He also satisfies the condition on Meeting the Messiah as well as Repentance and Restitution. He should find his home in a N.T. Gold deck just as sure as God finds a place in his home for us, his lost sheep.
To buy singles, sealed product, and other gaming supplies, please visit Three Lions Gaming!