Have you ever had an idea for a card that you thought would be really cool if you could make a card for Redemption? When you're having your quiet time in the Bible, do you ever get distracted because the scripture sparks a cool card idea? When you're playing the game, have you ever thought that your favorite deck or theme is missing an ability that would really make it fun or help you deal with a certain problem? Having visited the card creation section of the message boards I know we have a lot of creative players out there with good ideas. Now is your chance to make that great idea a reality!
How do I win?
This summer Cactus Game Design is giving two players a chance to create their own Redemption card! What will it take to be one of three lucky players? First you'll have to show up at the Redemption National Tournament. If you haven't heard about it yet, you can find the details here. Next, you'll need to win the Type 1 – 2 Player event, Type 2 – 2 Player event or the Booster Draft event. The National Champion in each of those three events will be allowed to submit their own card design to be printed and released in the new set the following year!
Winners will need to submit their card ideas by October 1st, 2015.
Winners may make any existing card type they wish, except a Dominant.
Submitted cards will be put through the normal testing an development that all cards go through. Play testers will work with the winners in an attempt to keep the integrity and effect of their card true to the original intention. We cannot guarantee that the card will be printed exactly as it's submitted.
Q and A
Let me take a moment to answer questions that I'm sure will come up.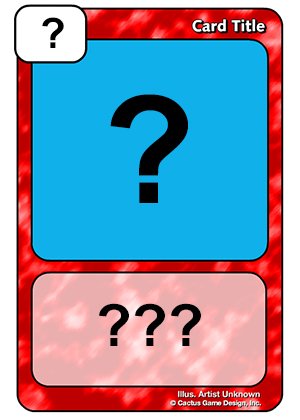 Q? – Why not allow the winners of all 7 categories make their own card?
A. – This is new territory for us and we want to make sure it's manageable. If it goes well, it's something we'd like to do in future years too. We might be able to expand or change to other categories but it's too early to tell.
Q? – My favorite category is one of the 4 that doesn't get this special prize. How did you decide on the categories you chose?
A. – We chose Type 1 – 2 Player because it is the largest and most popular category. We chose booster draft because it is also a very popular category that traditionally uses the new cards released for the first time at the National tournament. We've also added Type 2 – 2 Player to accommodate people who only desire to play Type 2.
Q? – What if the winner is already a Redemption Play Tester? Don't they already get to create cards?
A. – While Redemption Play Testers do get to create cards, there are limitations and restrictions on what they are allowed to create and include in each set. For example, if a play tester submitted an idea for a David reprint for The Early Church set it would not have been included because the set design was using Heroes from the early church era. The only limitations being put on the winner is that card created conforms to the current card types and it cannot be a Dominant.
Q? – Why aren't we allowed to create a Dominant.
A. – For power level and game balance we cannot allow Dominants. They are one of the most difficult card types to balance.
It's time to fine tune your Type 1 or Type 2 deck, hone your drafting skills and start brainstorming card ideas. What will you create if you win?
To buy singles, sealed product, and other gaming supplies, please visit Three Lions Gaming!