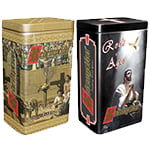 Hello and welcome to Browa's Budget Bazaar!
This article series is designed to provide quick and simple deck ideas in general, as well as for specific themes, that won't be hard on your wallet! There will also be suggestions for those with more available funds on how to spruce up the deck.
~||~
Today's Topic: Creating a deck with only tin cards (and generic Souls)
Today we'll be using 6 tins from the Faith of Our Fathers and Rock of Ages sets.
-Faith of our Fathers tins 3, 20, and 21
-Rock of Ages tins 11, 13, and 17