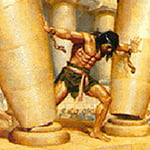 Hello and welcome to Browa's Budget Bazaar!
This article series is designed to provide quick and simple deck ideas in general, as well as for specific themes, that won't be hard on your wallet! There will also be suggestions for those with more available funds on how to spruce up the deck.
~||~
Today's Topic: Upgrading our Ruth/Judges deck from the very first article.
Today we'll be using the I/J and G/H starter decks found in the 4th edition and 10th anniversary boxes respectively as well as Faith of our Fathers tin 2 and Rock of Ages tins 18 and 23.
Hearkening all the way back to the very first article in the Bazaar, which you can look at here, today we're going to update our white/gold deck with some tins. As mentioned in the upgrade section for that deck, there isn't much Ruth support outside the I/J decks so we're going to remove the white part of our deck and make it a solid Judges offense. We'll lose the recurring utility of the Ruth cards but we'll gain access to several powerful cards including an awesome Fortress!