Final details for Nationals are coming together which means we have some more Nationals related news to share with you today. Of course we also have awesome new alternate release RoJ cards and the final winner promo for you too!
Booster Draft
Nationals booster draft will use a format similar to what was done last year in Ohio. The past couple days players have been voting on whether or not they want to use one of each of the six card boxes that have been released thus far or if they want to use 5 card boxes and 2 foil packs. If you haven't cast your vote yet and you plan to draft with us at Nationals please cast your vote!
Side Events
In addition to Type Half, plans have been finalized with John Michaliszyn to have Iron Man again this year! We're thrilled to have this long running fan favorite back again at Nationals 2017!!!
Phones Banished
Beginning at Nationals 2017 players will not be allowed to use mobile devices during game play. Players may keep their mobile device on their person provided it is not visible and kept put away. Judges can make an exception on a case by case basis if a player has a legitimate emergency which necessitates the use of their phone. There are two main reasons for this change:
First and most importantly we believe this will add to the enjoyment of everybody's playing experience. If even one player at a table is distracted by a mobile device it can slow down play and lead to unwanted mistakes with game altering implications.
Second and much less common is the potential for a player to cheat. Mobile devices open the door to a number of opportunities to cheat and can be difficult to detect. Disallowing their use eliminates the potential.
Food at Nationals
Plans are being finalized for meals at Nationals and the menu looks delicious! Thursday we're serving stir fry, Friday we're having ravioli and Saturday we'll have a taco/burrito bar. Meals will cost $5 each. Snacks and beverages will also be available for a small charge. We will have a list of nearby places to eat if you're looking for a place to grab some dinner or in case these options don't appeal to you.
Winner, Winner, Chicken Dinner!
For the lucky few that win a category at Nationals there is a very special promo card that will be given out. If you've been following the first two special promos we previewed this year you might have noticed a pattern. The top 3 promo is the same as last year but with new art. The top two promo is a popular angel just like last year. Those of you making an educated guess will presume that the winner card is Son of God with new art. You are correct!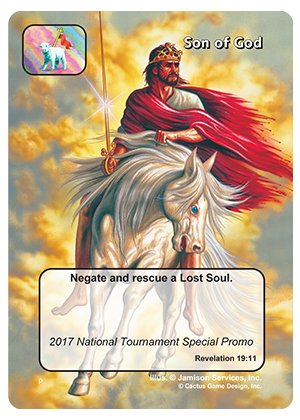 Like with AotL, we know that different people have different art preferences. The horse and rider version in particular fits very nicely with the release of Revelation of John this year!
Revelation of John Previews!
There are only two more weeks of previews left to share with you. You might think it would get easier to choose cards to share as the previews go on but instead it gets harder. There are so many cool alternate cards! You really can't go wrong with angels so let's do an angel theme for this weeks previews.
The first card is a rare instance of us using an exact copy of one of the special border CoW cards. When a border is this awesome why not? It previously represented Abraham's descendants being numerous as the stars. Now it represents a host of everlasting beings.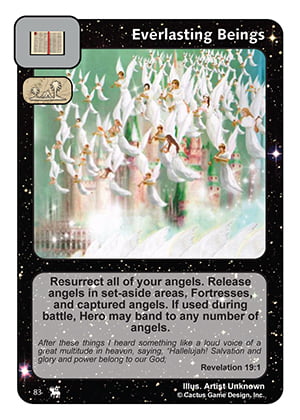 Our really thematic preview for this week has taken the art from Tartaros to depict a bound demon on The Binding Angel.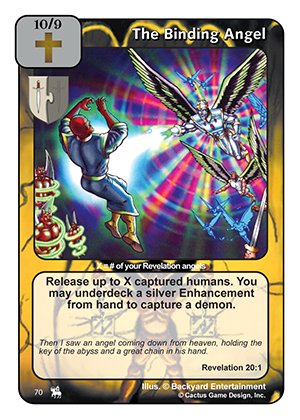 The last one was the most difficult decision of all. Both The Strong Angel and The Angelic Army look really awesome in full art but I can only show you one today.
Just in case you didn't see the preview that snuck into JD's birthday announcement on the forums, here's a look at the update he did to the illustration for Three Woes displayed in the full borderless format.
I can't wait to get my hands on that!!!
Join us next week for the final previews before Nationals. We plan to unveil the other two ultra rare cards. It may seem hard to believe but I think there's one that looks even better than Three Woes!
To buy singles, sealed product, and other gaming supplies mentioned, please visit Three Lions Gaming!