We have lots of great news to share with you today! Things that I know a lot of us have been waiting to hear, like the tournament legal date for Revelation of John, when the Reserve will be allowed and the release of the updated REG! Let's get right to business.
When Will RoJ be Tournament Legal?
We've been waiting to decide on the tournament legal date for Revelation of John because Cactus Game Design has experienced a problem, albeit a good problem. The first print of RoJ (which I assume was around the same size as the print of CoW) sold out before it even arrived! As any good business person would, Rob immediately ordered more. THANK YOU, Redemption community, for making this set a success right out of the gate!!!
The first print shipped last week, but since not everyone was able to get the cards they ordered we had to hold back on letting them be tournament legal until we knew the 2nd wave was going to ship. According to the Redemption CCG Facebook page, the 2nd order will ship the week of May 15th.
Revelation of John cards maybe used in constructed formats (Type 1 and Type 2) beginning May 26th!!! If you have product on hand you may use it for booster draft immediately.
When Will the Reserve be Legal and How Does it Work?
Players may begin using the Reserve in tournament play effective May 26th as well. At this time the Reserve is only used for constructed events (Type 1 and Type 2). As a reminder, here is how it works:
The reserve must contain between 0-10 cards.
You must have a written list of the cards in the Reserve for each deck.
Your deck + reserve must be a legal deck (ignoring Lost Soul to deck ratio rule as it applies to cards in the reserve).
If you check in more than one deck, each deck must have it's own Reserve.
You check in the Reserve with your deck at the start of the event.
At the time it's checked in, the reserve cannot contain Dominants or Lost Soul cards (the "Hopper" Lost Soul does not count towards Lost Soul deck building requirements and may be included in the reserve).
The Reserve is kept separate from your deck during game play.
Each player's Reserve may only be viewed by it's owner unless a special ability allows another player to view it.
Only cards that specifically mention the Reserve can target cards in the Reserve.
We want to make this as clear and easy as possible for players and hosts alike to adjust to this deep new area of strategy that we've added to the game. If you have any questions or suggestion please feel free to leave them in the comments below or contact me directly on www.cactusforums.com.
What's New in the REG?
The REG 4.1.0 went live on Cactus Game Design yesterday. It has also been updated in our "Cards and Rules" section. While there were a lot of changes in this version they were all minor updates almost exclusively to things pertaining to RoJ. I'll highlight the important things here.
Information pertaining to the Reserve was added to the deck building rules and the glossary.
The entry for Remove from the Game was changed to Banish.
A new entry was created for Resurrect.
Minor updates were made to Capture, Convert, Exchange, Look, Rescue and Search.
Existing glossary entries were updated to add each of the new promos and the RoJ cards.
Minor updates were made to Blocking, Duplicate Cards, Land of Redemption, Non-human, Site and Temple Artifacts.
Glossary entries were added for Acts (neutral cards), Banish Pile, Dual-Alignment Cards, Heavenly Temple Artifact, Job Cards, Major and Minor Prophet, Martyr, Nationality, Revelation 12-19 Character, Revelation Angel, Revelation Hero and Symbolic Character.
We believe that we've hit on everything that needed to be done, however if you find anything that was missed we would love to get your feedback so it can be corrected in a future update.
Redemption International
If you're part of the Redemption forums then you might have caught on that we have players all over the world. Not in huge numbers, but there are players in Germany, Canada and Australia.
A member of our play group recently traveled to Taiwan. She also can write Mandarin, which I find to be rather impressive. One of our players thought so too and got someone to make this sign for her. I'm told it means Redemption!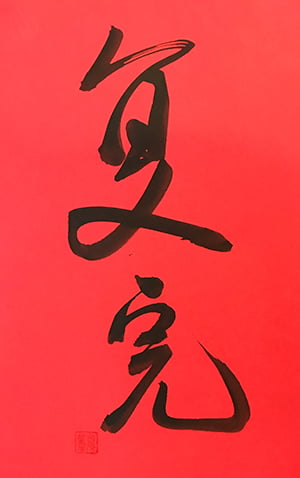 To buy singles, sealed product, and other gaming supplies mentioned, please visit Three Lions Gaming!