The Book of Revelation is the last Book of the Bible. It is the fullness, the completion of God's grand plan of creation and salvation first begun in Genesis. In Revelation, the primary names given to God's people are "saints" (holy/set-apart ones) and "The Bride" (lovers). Why? Because God created human beings to live in a holy, devoted, eternal love relationship with Himself. This reality is beautifully expressed by God equating the capital city of Heaven, the New Jerusalem, with the Bride herself – for God's heart and plans for Heaven and His Bride are inseparable.
Then I, John, saw the holy city, New Jerusalem, coming down out of heaven from God, prepared as a bride adorned for her husband. And I heard a loud voice from heaven saying, "Behold, the tabernacle of God is with men, and He will dwell with them, and they shall be His people. God Himself will be with them and be their God. – Revelation 21:2-3
Contrarily, in Revelation 17-18 an image is given depicting the persecutors of God's people: a harlot, sitting upon a beast, with a golden cup in her hand containing the blood of the saints. She is called "Babylon the Great", as the city of Babylon is described as the capital from which the harlot and the beast's abominations and persecutions are based.
In Redemption's Revelation of John set, these juxtaposed and personified characters and cities presented an opportunity to make an entirely new card type: a site + character in one!
New Jerusalem/Bride of Christ is a multi-brigade access site which can be converted into a multi-brigade 3/3 Hero. The multi-brigades represent the fact that all believers and lovers of Jesus everywhere, Old and New Testament alike, are part of New Jerusalem and the Bride.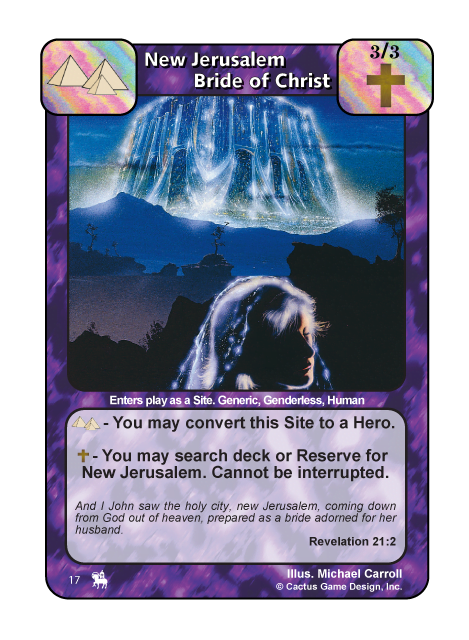 Babylon/The Harlot is likewise quite thematic. The Babylon Site from the Women's set was red, and this brigade is kept for the reprint as well as silver was added for the Book of Revelation context. The Harlot is a reprint of the Evil Character Babylon the Great from the Warriors set, and is crimson due to the Babylonian identifier as well as orange for the demonic collaboration.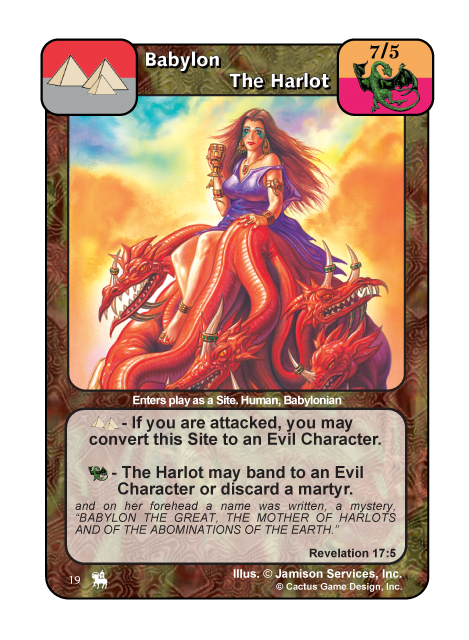 The versatility of these new cards makes them fun and exciting! New Jerusalem/Bride of Christ can be used for Site access, for using Lost Soul abilities that trigger when put into a Site, and for making rescue attempts with just the second multi-brigade Hero in the game (along with Paul)! The ability to search deck or Reserve for New Jerusalem (either another copy of itself in Type 2 or the good Dominant in either T1 or T2) makes this card splashable and powerful, and the 3/3 numbers will often give the rescuer initiative to play the first Enhancement in battle, as well.
Babylon/The Harlot can be used defensively for Site-locking a Lost Soul, or entering battle with its powerful ability. The Harlot will be just the second Evil Character in the game which can target any other evil character for banding (along with Lot's Wife), and with the new identifier of martyr being added in RoJ, the auto-block discard against a martyr will be very useful as well.
Finally, there are a few cards that specifically interact with these new Site/Characters. Offensively, One of Seven is an angel that can search deck or Reserve for New Jerusalem. And on the defensive side, Kings of the Earth is a new versatile Evil Character that gains "cannot be negated" if Babylon or The Harlot is in play, and Merchants of the Earth likewise gains CBN if Babylon is in play. An older Babylonian Evil Character, Nebuzaradan from Kings, also is boosted as its special ability is that evil Enhancements from II Kings cannot be negated if its holder has a Babylon site is in play.
How cool is it that Redemption can teach The Bible in such a fun game? May these new cards inspire us to be intentional about wholeheartedly loving Jesus, for that is God's purpose and desire for us. I hope you are as excited as I am for these new cards, and for the entire upcoming Revelation of John set!
To buy singles, sealed product, and other gaming supplies mentioned, please visit Three Lions Gaming!