Nationals 2016 was more than just another Redemption tournament for me. It turned into a week-long adventure full of fun, fellowship, new friendships, trials and blessing. There's no way to share it all with you so I'm just going to touch on the highlights.
Pre-Nationals
We had about an eight-hour drive to get to Franklin, OH. We were overjoyed to find out that about midway was the perfect stop to stretch our legs, clear our heads and fill our bellies – Chicago Bears training camp! Visiting CBTC has become a bi-annual event for our family. They have a huge play area with inflatables to wear the kids out and we get to see the greatest team in the NFL preparing to win the Super Bowl this season!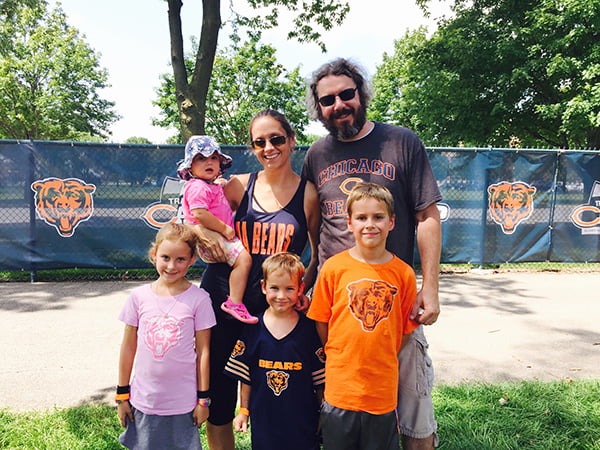 That night, after the family was settled into our hotel, my oldest son and I went over to the church to see who was there. To our joy we found over 20 of our favorite Redemption people full of excitement and anticipation for the days ahead! I won't start name dropping because I'll inevitably forget someone, but it was awesome to see so many old friends and catch up. We stayed much longer than anticipated.
Nationals Day 1
I'm so thrilled that we had three different cars full of people come from our play group in Iowa! Some were only there for a day, others for two days, but none of them wanted to miss out on fun that is Redemption Nationals!
Everyone was gobbling up the special release Cloud of Witnesses cards! If you didn't get to experience them yourself, or if you haven't seen them all, be sure to check out the full image gallery we put up for you! After I've finished my Nationals reports I'll be sharing in more detail the significance of the new border choices.
Most people played booster draft – no real surprise there. I was one of eight players that played T2-MP. Only one out of 4 of my games finished before the time limit. It was grueling and fun. The field was full of "giants" so there were no easy games. Expect a full report in part 2.
That evening I had an amazing time eating together with Rob Anderson and the Redemption Elder team at Olive Garden. While we did discuss Redemption a little, we also had time to share what's going on in one another's life so we can better know how to pray for one another.
Nationals Day 2
Most people consider this day to be the main event. Both T1-2P and T2-2P try a player's skill as a deck builder and player against the toughest competition available. This year was no exception. The field for both events was stacked!
With all the success I've had in T1-2P with my B.o.M. deck this year I chose to play in that event. While I expected the deck to perform well, it only takes a couple bad draw, bad match ups or mistakes to know a player out of contention. For the most part I was able to avoid all of those things and won the event! Expect a full T1-2P report in part 3, followed by a complete B.o.M. deck analysis.
While I'm very happy to have won, one of my favorite parts of Nationals is meeting people for the first time that I've developed a friendship with through the message boards and Land of Redemption. This year one of those people is Josh Hartzler (jmhartz on the message boards). The highlight of my day 2 was meeting him in person before the event started and getting to play him in round 3!
We wound down our evening by spending it with some dear friends who were departing the next morning. We ordered some sushi to take back to the hotel and watched the opening ceremony to the Olympics. When picking up our sushi we ran into a group of Redemption friends at the hibachi grill! That looked like a lot of fun!! I wish we could have joined them. There's never enough time to do everything you want to do when you're not play Redemption at Nationals.
Nationals Day 3
The last day of Nationals is always bitter sweet. There are still three fun events to choose from – Sealed deck, Teams and T1-MP – but the time is drawing to a close and it'll be another year or more before you get to see some of the wonderful people again.
John Early and I had been preparing for Teams since before the state tournament season began. At both States and Regionals we fell short, being taken down by the Alstad brothers. While we won the event, you'll have to wait until part 4 of my Nationals report to find out how we took them down, or if we simply avoided them all together dodging that silver bullet.
We said our good byes and settled into our hotel for some much needed family time. My wife and younger kids had been enjoying themselves but it's still a sacrifice that they make to let me participate in Nationals for three days. I'm truly blessed to have their support but know when I need to focus on their needs too.
A Rough Sunday
Missy and I have wanted to go to the Creation Museum for years, but we've been waiting for our kids to get old enough to appreciate it. Today was to be our first visit to a place we've heard so many good things about from several friends!
We packed everything up so we could leave the Drury Hotel and stay somewhere closer. The CM didn't open until noon so we had a casual morning that allowed the kids to use the pool one last time.
When we arrived at the Creation Museum we ran into some complications right away. The staff at the CM were amazing – going above and beyond all expectations to take care of us and ensure that we were able to enjoy our time! WOW! What a first impression!
Still, this day didn't go all that well. I could give you a dozen excuses – I was tired from several poor night's sleep in a row, it's stressful packing up and moving 6 people, I was experiencing aches and pains that come with getting older, my kids weren't responding with obedience the way they normally do, etc., etc.
My heart was not full of worship like it should have been as we soaked in example after example of God's majesty. Instead my heart was sinful. I was grumpy and short with my family. They all feed off that and the downward spiral continued. We left the CM early with intentions of coming back Monday with a fresh perspective.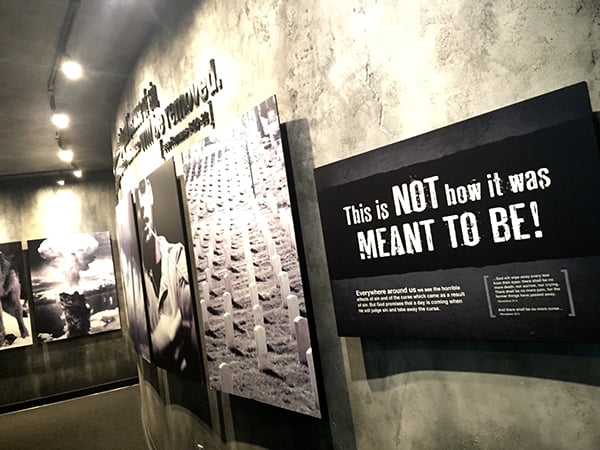 That night as we did family devotions together I confessed my sin to my family and God, asking for forgiveness. We prayed that God would give us rest and prepare in us a heart of worship and awe as we return to the CM the next day.
The Creation Museum
If you've never been to the CM I highly recommend it! If you have been there, then you'll know exactly what I'm talking about. The simplicity with which they present the truth of God's word is awe inspiring. The comparison and contrast between God's word and man's perspective is done with excellence.
My family already has a bent toward being inspired to worship God through nature. It was easy to be in awe of God's majesty at the insect exhibit, the planetarium movie, and so many other wonderful displays.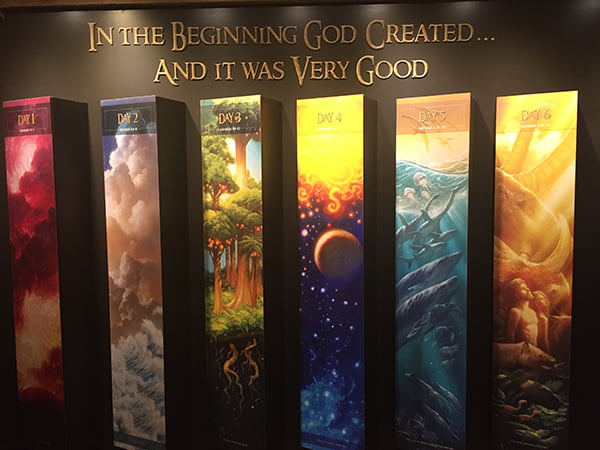 We saw some Redemption friends during our time at the CM. We ran into the Greeson family around lunch time. I'm so happy that Jonathan has returned to Redemption. It's inspiring to see him and his son take 1st and 3rd in T1-MP. We also appreciate having another family in a similar stage of life enjoying the game together. We briefly saw Jacob and Joshua (my round 2 Teams opponents) atop one of the zip line towers. And of course we ran into Allen who generously connected Redemption players with passes to enjoy the CM.
While there are many things we enjoyed, the kids highlight was the camel rides. The camels at the CM are both kind and gentle. We all fell in love with them.
The CM was also the best Pokémon Go hot spot I found the week we were in Ohio and Kentucky.
Noah's Ark Exhibit
On Tuesday we traveled south to check out the brand new full size Noah's Ark that just opened. It is enormous! Just like the CM, Biblical truth is presented in a way that's simple and easy to understand. Man's views are compared and contrasted with God's word, allowing viewers to make informed choices about what they believe. And they always point to the good news of Jesus Christ which is what it's really all about!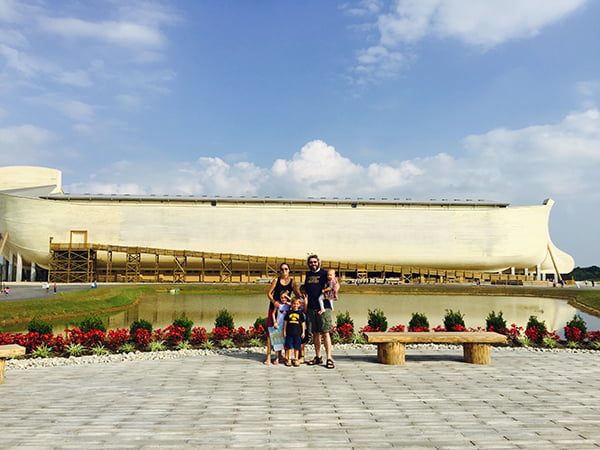 There are a couple times that they take creative license but they always state that ahead of time so participants can know what is truth and what is historically probable, but unknown.
We spent a full day soaking it all in and had a great time. It seems like there is a lot more they have planned to add on. We're excited to go back in a few years to experience it all again!
Returning Home
A full week after we left, we began the long drive home. There was no Bears Training Camp to break up the trip, but somehow the drive home always seems to go quicker. The week had been full of so many wonderful people, places and experiences. We're blessed to have had the opportunities and happy to settle back into what is normal for us.
To buy singles, sealed product, and other gaming supplies mentioned, please visit Three Lions Gaming!