Hey guys, for the first interview in this series, I interviewed Bill "everytribe" Voigt from my very own Twin Cities playgroup.
• What is your favorite card in the game and why?
Widow. I like the story in the Bible and one time at Minnesota State tournament I won a game against a good player from Iowa in 3 turns. I drew Widow on my first turn and attacked each turn, he drew lost souls and big evil characters and on turn 3 I drew SoG and NJ for the win.
• If you could only pick one category to play at Nationals, which one would you choose?
Booster Draft. The first Nationals I attended in Boston (2003), I placed 4th in Booster Draft and have liked it ever since.
• What is the best deck you have ever built (either in terms of success or most creative or most original design/strategy)?
I always try to build different or creative decks to challenge the better players. My best deck was a Type 1 deck that was really different than all the other decks at the time. The 3 goals were to hide my lost souls, create lost souls to rescue, and kill evil characters. It had a small 12 card defense, Brown and a little Orange and Crimson, only 3 EE. The offence was a smattering of Heroes, about 7 ways to create LS's and only 3 GE. Used Artifacts and Covenants to get rid of ECs. I placed third at the 2008 North Central Regionals, only losing to Gabe. I had high hopes to do well at Nationals that year but ran into two speed decks that had good draws and I did not place.
• You pretty much invented Type A—explain a bit about why you started that and the impact it's had on your playgroup.
We had a number of national champs in our playgroup so it was real hard for anyone new to win a tournament. We also had a number of young kids under 12 that were just learning how to play so to give them a chance to win we started Type A. It was the same as Type 1- 2 Player except you had to be under 12 years old. Once you won a type A local you could not play in a Type A local anymore. If you won a type A district you could only play type A at state or above. The second year we had Type A we hosted the 2005 Nationals in MN and had 48 type A players play. It helped kids stay interested in Redemption and often a young player who would win a type A tournament would knock off a veteran player in another tournament. People from outside MN started to fear the RLKs (random little kids).
• Many years ago, there was a "Type S w/ Warriors" at the T2 Only—some players have only heard rumors of this legendary category, can you share a bit about that?
"Type S w/Warriors" was inspired by a visit to Perkins after a MN State tournament. About 15 people went out to eat afterwards and I just happened to shoot a waitress in the butt with a straw wrapper. Everybody had a big laugh. I had perfected the straw wrapper shooting technique in college and was undefeated in competition. So that year at the T2 Only we had a straw wrapper-shooting contest during lunch. Matt Brinkmen bought a big box of straws that were Warrior Brand. We shot for distance and accuracy.
• What is your best Redemption-related memory?
At the 2007 KC Nationals, my son Nathan won his first National Championship. He had had some medical issues early in his life and Redemption had been one place he had success and made some good friends. He was at the top table in the last round of T2-Multi and I walked around the building and prayed that God would encourage him. When I came back I found out he had won.
• Speaking of memories—rumor has it you once made a girl cry at Nationals because your deck was so good, can you share what happened?
At the 2007 KC Nationals I was playing T2-2P against an 18-year-old girl from Texas. It was a 150-card deck. Choose the blocker offense and site lock defense. I got set up early and she soon never got to play since I chose my own evil characters for her to block and had her site-locked. I used Every Man's Sword, which at the time kept her site access Heroes from entering battle. The judges came over and debated the ruling, which was changed a year later. After the game I saw her sitting down crying, being very discouraged. So I went up and talked to her and gave her Destruction of Nehushtan, which was an expensive card at the time, because I felt bad.
• What is the inspiration behind your forum name (everytribe)?
Revelations 5:9: "Worthy are you to take the book and break the seals; for You were slain and purchased for God with Your blood men from every tribe and tongue and people and nation." And Newsboys song, "He Reigns":
Its the song of the redeemed
Rising from the African plain
Its the song of the forgiven
Drowning out the Amazon rain
The song of Asian believers
Filled with Gods holy fire
Its every tribe, every tongue, every nation
A love song born of a grateful choir
• If "Wild Bill" had a Hero card, what would his special ability be?
Territory Class Hero: Every time an opponent draws a card due to a special ability, owner gets to draw an equal number plus 1. (Nobody outdraws Wild Bill)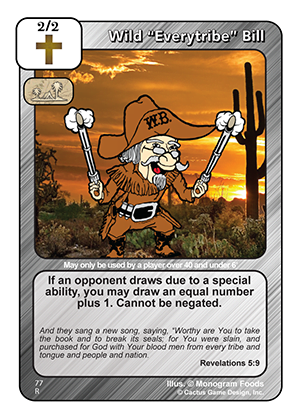 • What is the best advice you can give to a new player?
Don't be afraid to play the better players—that's how you learn what cards are good to use and how to play them. Winning isn't the most important thing. Also there is more to life than Redemption.
To buy singles, sealed product, and other gaming supplies, please visit Three Lions Gaming!