My first Redemption Nationals was in 2007. It was such a great time that I've been back every year since! But let me assure you, the things that I have the privilege to share with you today are going to help make Redemption Nationals 2016 the best National Tournament yet!!!
The thing that keeps me coming back to Redemption Nationals every year is the people. It's like an annual family reunion every August. I've made so many wonderful friends there. Everyone is casual, fun and friendly. All of them love Redemption. Most of them love God. I get to meet people I've only talked to online. Everyone I've met is even cooler in person than I imagined. There are opportunities to encourage one another in our faith. There are also tons of gaming and trading opportunities.
But those things can be said of every Redemption National Tournament. So how can I say that this will be the best one yet?!!
New Cards!
The new set has already been released. The fact that we get to play in a two month old, completely open meta is really exciting! But that's only part of what has me looking forward to Nationals. That also means we won't have the excitement of opening brand new cards this year. Or will we?
If you missed the announcement on Redemption CCG's Facebook page last week, and Justin's video from yesterday, there will be an all new version of Cloud of Witnesses only available at Nationals!
So far we've seen a few cards with all new thematic borders. All of the new flood survivor cards will have a variation of the water drop border seen on Shem.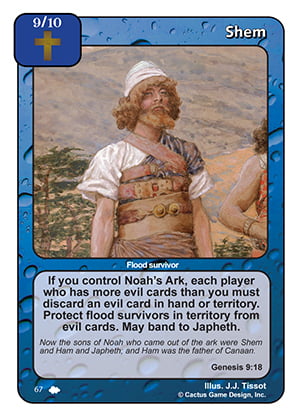 Did you notice the hieroglyphics on The Murdering Pharaoh? You guessed it. All the Egyptian related cards will have variations of that border.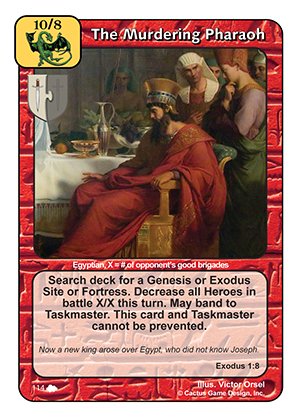 Who noticed The Second Coming in Justin's video? A borderless Redemption card? I can only imagine that all three ultra rare cards might receive a similar treatment.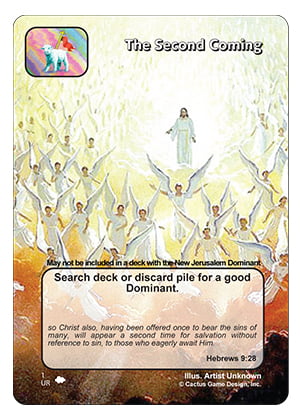 In the coming weeks I'm sure there will be a few more of these beautiful reprints previewed. But to see them all you'll have to come to Nationals if you want to check out these fancy new cards! Some of my favorites are the Lost Souls, the animals, Saul's Spear, Moses, Sword of the Spirit, Eternal Inheritance, Doeg, Confusion…
Honestly, it's hard to limit that list. There are a lot of them I really like that I didn't even mention. They all look so good! I can't wait to get my hands on these!
Special Prizes!
Winning Nationals is a prize all by itself. It's the biggest tournament, made up of the top players in the game. But like all Redemption tournaments there are packs given out as prizes too. Often the players that win already have a large collection and don't really need more packs, even though it's fun to try to pull a chase card like Shipwreck.
This year, in lieu of receiving 9 card boxes or 15 foil packs for taking 1st place, the winner of each category can opt to receive a full set of ultra rare cards from Cloud of Witnesses!!! I have a hard time imagining that anyone will take 9 card boxes over a The Second Coming, Broken Covenant and Eternal Inheritance!
That's a pretty amazing prize for the people who finish 1st! But what about everyone else?
Lots of new Promos!
Surely you've heard by now about the new Noah's Ark promo being given out at Nationals this year. Instead of just giving one promo per player at registration, Cactus is giving players a Noah's Ark promo for each event that they play during Nationals!
If you make it and play all three days you could get 3 Noah's Ark promos! What a great way to makes sure copies of the new promo are widely available to everyone. If you don't think you need 3 Noah's Ark I imagine you'll have a very easy time finding someone to trade for one of your extra copies.
Did you also know that Noah's Ark will be legal to use in your deck at Nationals? Normally the new promo can't be used the year it's released. This year there is a special exception! It's time to try out those flood survivor decks to see if your version can carry you to the top of the standings!
Winner Card Creation Contest!
Last year's trial of the winner card creation contest was such a success we're going to do it again this year!
At the 2016 National Redemption Tournament the winners of the booster draft, T1-2P and T2-2P will all be given the opportunity to create a Redemption card to be printed in the 2017 set!
Winners must have their card design submitted by October 1st, 2016.
Winners may make any existing card type they wish, except a Dominant.
Cards submitted with be put through the normal testing and development process. Play testers will work with the winners in an attempt to keep the integrity and effect of the card true to the original intention. We do not guarantee that the card will be printed in the same form it is submitted.
Will you make the next Coliseum, Word of Their Testimony or Confusion?
Special Top 3 Promos!
Normally the winner of any category receives a winner promo card. The latest winner promo, Dragon Raid, is a nice card. But most players who win Nationals have at least a few copies already. Why not make the winner promo more exciting? In fact, why not make some exciting promos for everyone who makes the top 3?
Angel of the Lord is a card that makes into almost every constructed deck. With the introduction of The Second Coming it's going to get even more use. This year Cactus Game Design is going to give a borderless Angel of the Lord to each player that places in the top 3 of any category at Nationals!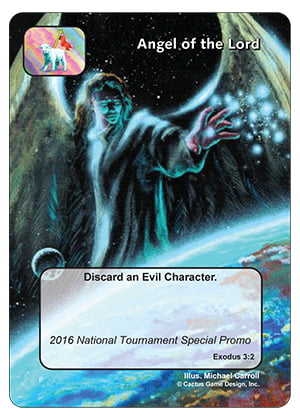 Captain of the Host has long been one of the most powerful Heroes in the game. He's been featured in many winning decks since his release in the Warriors set. Everyone who places in the top 2 of any category at Nationals will get a copy of this full art Captain of the Host!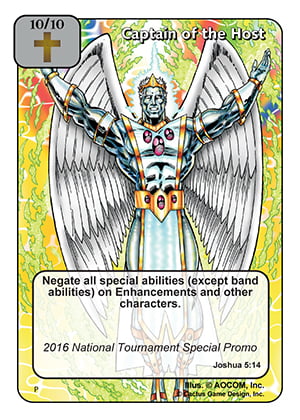 Wow, those two are pretty amazing! These's one card that's central to the game of Redemption. It's featured in almost every deck. Games are sometimes decided based on whether or not you draw it. Of course I'm talking about the Son of God card. If you take first place in any category at Nationals, instead of a Dragon Raid, this year you will receive a borderless Son of God!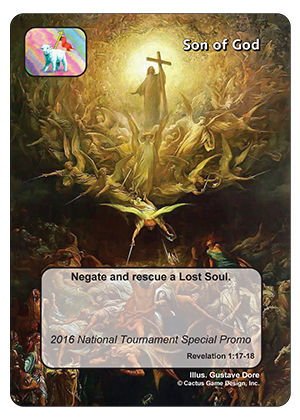 Notice that all of these are fancy versions of existing staple cards so as not to give winners access to cards other players can't get. The winner cards just look cooler! If you win will you keep these to stylize your deck? Will you trade them to get cards to enhance your deck? Will you sell them to an avid collector to recoup some of your travel expenses?
Best Nationals Yet!
With so many exciting new things going on it's easy to see that this will be the best Nationals so far! Thank you Cactus Game Design for making all these exciting new options available to us at Nationals 2016!!!
If you aren't sure about whether or not you are going to join us at Nationals, it's time to start making plans! See you in Ohio!
To buy singles, sealed product, and other gaming supplies, please visit Three Lions Gaming!