"For the Son of Man has come to seek and to save that which was lost." (Luke 19:10) Jesus spoke these powerful words after Zaccheus, the infamous tax collector, showed Repentance and Restitution for all the times he had cheated his fellow people. The goal of Redemption follows the example of Jesus: to save and redeem Lost Souls. Redemption does not portray specific people as Lost Souls because in a sense, we are all Lost Souls before we come to know Jesus. Even when we come to know Jesus, there may be times in our lives when we drift away or feel that we have lost our connection to Him. The amazing truth is that even when we make mistakes, He will never leave us nor forsake us, and that He always welcomes us back with open arms when we return to Him.
Cloud of Witnesses introduces six new Lost Souls into the game and I believe all of them will immediately start finding their way into top decks. The first Lost Soul comes from Hebrews 2:15, which talks about Jesus freeing those who were held in slavery by their fear of death. Because of Jesus' work on the cross, we no longer have to be slaves to the fear of death.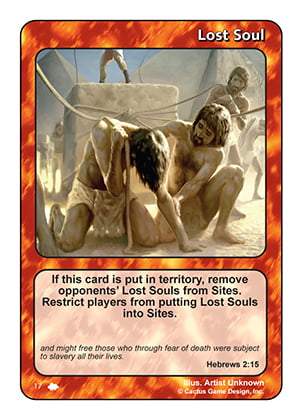 The "Slaves" (or "Fear") Lost Soul represents this idea in that it removes other Lost Souls from Sites and restricts all players from putting Lost Souls into Sites. The Lost Souls will be freed from the Sites allowing them the opportunity to be rescued and redeemed. Site decks have proven to be very powerful, particularly with the ability of Shipwreck to take out a multi-brigade access Site so this Lost Soul gives players another way to deal with Sites.
The second Lost Soul in the set is the "Open Hand" Lost Soul, and it comes from Hebrews 4:13, which speaks of all things being open and known to God our Father. He knows the secrets and fears of our hearts even when we are lost and feel far from him.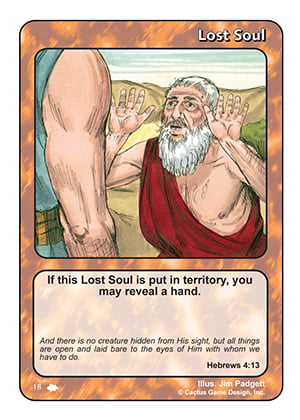 When the Open Hand Lost Soul is put in a territory, it allows the controlling player to reveal a hand. Note that it does not say "opponent's hand" so in a multi-player game you can pick anyone (though your options might be limited if anyone is using the new promo "Crowds" Lost Soul). The ability to look at an opponent's hand is one of the strongest abilities in the game in my opinion because it not only gives you the advantage of knowing the best play, it forces the opponent to re-consider what he thinks might be his best play.
Third of the new Lost Souls is the "Dull" Lost Soul. This soul comes from Hebrews 5:11 where the author of Hebrew admonishes his readers that they have become "dull of hearing," or slow to learn, the teachings of Jesus. How many of us can relate to being slow to learn something God is trying to teach us? I know I can.
The ability of the Dull Lost Soul represents how evil can gain an advantage when we are not fully prepared to do battle before we attack. If the attacking player needs to use a good look, reveal or search ability to gain extra cards during the course of battle, the opponent can follow suit and strengthen his own defense by grabbing an Evil Character or evil Enhancement.
The next Lost Soul comes from Hebrews 10:25 which refers to believers who stop meeting together. We are called to live in fellowship with one another as believers and the author of Hebrews exhorts his readers to not give up their fellowship. However, that can and does happen all too often and the "Forsaken" Lost Soul exemplifies this all too well. The enemy loves to divide God's people and turn them away from each other, and it is one of his most powerful weapons.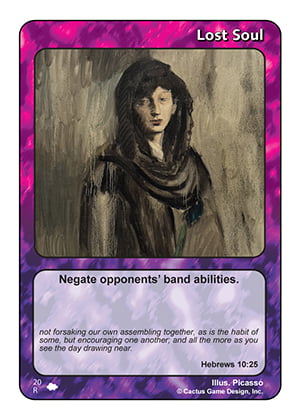 However, this Lost Soul also negates evil banding because just as believers can be divided, so too can the forces of evil. (For a cool story about a time when God supernaturally divided people, check out the story of Babel and Confused Languages.) Personally, I know a lot of people (believers and non-believers) who have felt abandoned or forsaken by people they trusted, and I'm sure you do too—maybe you're one of them. There was a time in my life when I felt rejected by a group of friends, and it impacted my entire life for years after. In a future article, I will share a bit more about this, but for now let's continue with the Lost Souls from this set.
Hebrews 10:39 gives us our fifth Lost Soul, the "Destruction" Lost Soul. Our world is full of people who engage in self-destructive behaviors because they are lost and searching for something to take away their pain. Others try to destroy things or people around them because they cannot find peace in their own circumstances.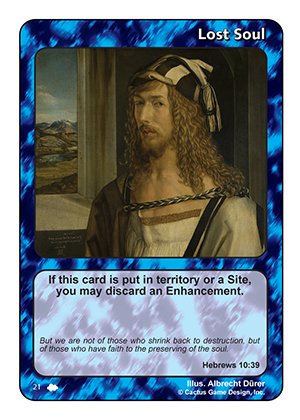 This destructiveness is represented by the ability of the "Destruction Lost Soul" to discard Enhancements that have been put in play. This will often be powerful placed Enhancements such as an Armor of God Enhancement or maybe Kinsmen's Agreement. However, once in a while you might even get a bit luckier. During a playtest game with Gabe a few weeks ago, he played an evil battle winner to try and defeat my Hero. I used Reach of Desperation to interrupt the battle and draw 3 cards. One of the cards I drew was the Destruction Lost Soul and we realized that I could use it to discard his evil Enhancement! Since it was currently being interrupted, I essentially turned the Lost Soul into a negate. The writer of Hebrews says that we as believers "are not of those who shrink back to destruction" and that is because we have been saved by the power of Jesus. However, it is now our mission to reach out to those who find themselves in that destruction and introduce them to the saving love and grace of Jesus!
The last and final Lost Soul was actually my favorite to use during testing of the new set. The "Lawless" (or "Divination") Lost Soul comes from Hebrews 12:8, which talks about God disciplining the children He loves in order to teach them. However, children who are not disciplined and instead are "lawless" are said to be illegitimate and not children of God.
This Lost Soul allows the player to pick any player (himself included) to reveal the top 6 cards of his deck. Any Lost Souls go to play and the player may add a revealed evil card to his hand. (Remind you of Divination?) The reason I like this Lost Soul so much is that it gives the player multiple options. If the opponent has not drawn any Lost Souls, it can potentially pull some out for the player to go after. If the player already has several Lost Souls in play, but not much defense, it can be used on himself to grab a needed evil card (and even if it puts another Lost Soul in play, that probably doesn't matter). Different scenarios will call for different decisions on the best way to use this Lost Soul—the decision is not always going to be the same and that makes for more interesting games.
That's going to do it for the new Lost Souls. I truly believe each and every one of these has the potential to shake things up. It has long been our goal as a card design team and playtesters to make cards that encourage variety in decks. Lost Soul selection is going to become a vital part of deck-building now more than ever!
Be sure to check back soon for more card previews for Cloud of Witnesses!
To buy singles, sealed product, and other gaming supplies, please visit Three Lions Gaming!