There has been a lot of conversation about "alternate win conditions" in the game of Redemption. If you are not familiar with the concept, it is based on the idea that there could be another way to win besides the standard condition; which in Redemption is rescuing a certain amount of Lost Souls. So perhaps instead of rescuing souls, you would be able to have four specific cards all in play at the same time which would mean you win regardless of the Lost Soul score at the time.
The issue with that as I have come to understand it is that Redemption is inherently about rescuing Lost Souls and will likely never deviate from that. So in order for Redemption to even have a pseudo-alternate win condition, it must operate within the boundaries of rescuing Lost Souls. With the Cloud of Witnesses set, we were afforded a couple opportunities to build into cards another way to win a Lost Soul outside of winning a battle or rescuing it from our opponent's Land of Bondage. Let me introduce you to two cards that provide a different path to rescuing Lost Souls!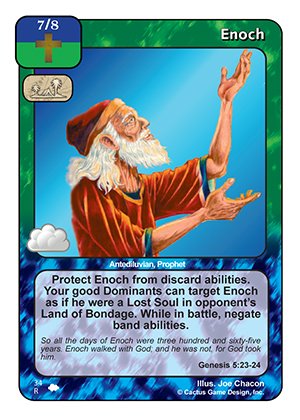 Enoch is basically a Hero that you can target as a Lost Soul for rescue or use to rescue as a Hero normally. The fact that he is protected from discard and negates banding in battle makes rescuing him a fairly tough decision. When you add on top of that his versatility with cloud cards and being a dual threat as a blue Genesis and a green Prophet; Enoch may be rescued, but probably only as a late game strategy in most instances.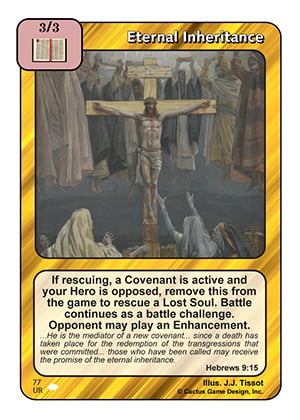 Eternal Inheritance, on the other hand, gives you a way to rescue that requires a rescue attempt but not in the traditional way. It has been said that the more we emphasize the battle phase, the better it is for the game. I have to say that I do agree with that sentiment in principle. There is nothing more frustrating than sitting idly by while my opponent plays combos that require little input from me other than to admit defeat and discard my characters. In the gaming world, that is generally known as a NPE (Negative Play Experience). Eternal Inheritance introduces a way to win the rescue without necessarily winning the battle.
Does this mean that there will never be a win condition based on collecting two of every animal cards in Noah's Ark? Yeah, that will probably never happen. Does it mean that we are limited in our creativity and mechanics within the game of Redemption? Absolutely not. If there is anything being a play tester this last couple years has taught me is that we are always looking for ways to introduce new and intriguing mechanics in to the game of Redemption. Generally, we will only introduce one major concept per set. With the Cloud of Witnesses, it was the cloud icon. With the next set, only time will reveal what is to come.
To buy singles, sealed product, and other gaming supplies, please visit Three Lions Gaming!