It's Sunday morning. You might be a church-goer, you might not. If you are, it's likely that at some point someone at your church (a pastor, a Mentor or maybe a Best Friend) has been there for you during a tough time. I believe that God puts specific people in our lives to come alongside us, to guide us, to give us Words of Encouragement, to let us know that we are Not Alone and to keep us from Falling Away from the faith. The book of Hebrews talks of such people. We are introducing two new Heroes to represent them.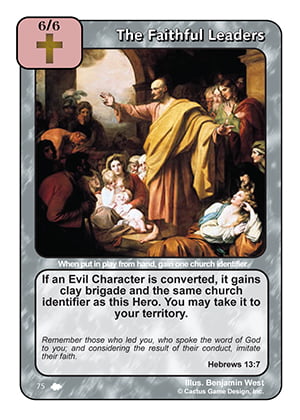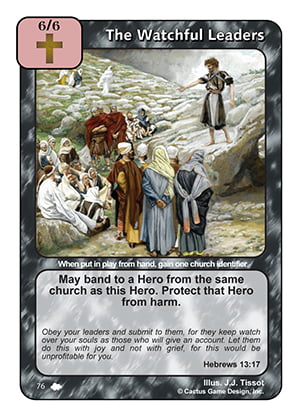 The Faithful Leaders and The Watchful Leaders give players two new Heroes that they can add to their church-themed decks. Similar to Dutiful Priest works with the various temples, these Heroes can gain the identifier of whichever church theme you choose. The Faithful Leaders give a player even more opportunity to grow their church as any Evil Character that is converted during a rescue by The Faithful Leaders gains clay brigade and the same church identifier as The Faithful Leaders, and allows the player to take it to their territory. I get the feeling that The Faithful Leaders might see a lot of use with Holy Grail…
Now the church themes each have some banding options already, but The Watchful Leaders take it a step further and give protection to the Hero they band to. That will force the opponent to deal with The Watchful Leaders before they can defeat the banded Hero. Try adding The Watchful Leaders in between the strong The Generous Givers/Clement band and that is going to be a tough band for the opponent to overcome.
Thanks for checking out this "Sunday Spoiler" and be sure to check back as we preview the remaining cards over the next week here on Land of Redemption!
To buy singles, sealed product, and other gaming supplies, please visit Three Lions Gaming!