Jehoshaphat, like his father Asa, was a God-seeking king of Judah. He sought to please God in his choices and in his leadership. One of the coolest things about Jehoshaphat is how much he worked alongside others to seek God's glory! This attribute is creatively reflected by his banding ability. Let's find out how Jehoshaphat led the people around him to have faith in the one true God!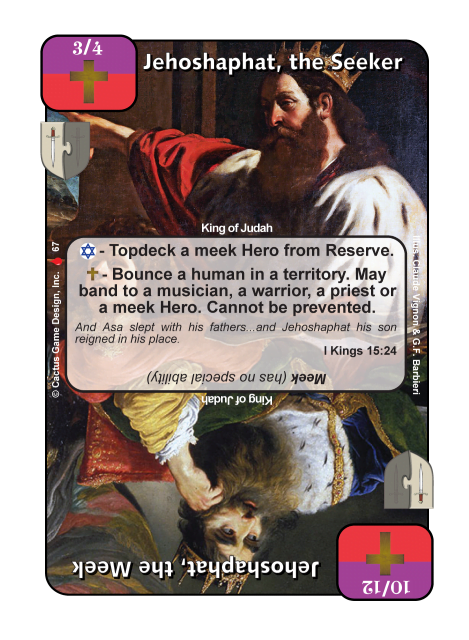 Messengers came to tell the king about a massive Alliance Against Judah that was gathering forces across the dead sea! There was an army from Moab, forces from Ammon, and an Edomite Camp that were all ready to take charge.
When Jehoshaphat heard this, scripture tells us he was "alarmed". I think it's important for us to understand that even great leaders of faith can have seasons that shake them to the core.
But his reaction wasn't to shout the alarm, nor to tell the army to sharpen their swords. Jehoshaphat 1) resolved to ask God what to do and 2) proclaimed a fast for all of Judah.
Judah gathered at Jerusalem, and Jehoshaphat turned to Solomon's Temple and lifted this Prayer of Faith: "Our God, will you not judge them? For we have no power to face this vast army that is attacking us. We do not know what to do, but our eyes are on you." (2 Chronicles 20:12)

All Judah joined in this prayer. Then the Spirit of the Lord came on Jahaziel son of Zechariah. He was a descendent of Asaph and would have been very familiar with the music and sacrificial work of the Levites. Through the Spirit, Jehaziel told Jehoshaphat not to be afraid because The Lord Goes Before You. He said: "For the battle is not yours, but God's. (2 Chronicles 20:15)
Without delay Judah began to worship the Lord together, and the next day as they set out for battle, Jehoshaphat sent the musicians at the head of the army. This scene is the inspiration for the song "Raise A Hallelujah": 'my weapon is a melody… fear you've lost your hold on me!'
As they worshipped the Lord from the top of a cliff, God was doing the fighting for them in the valley below. The Ambushed Moabites and Ammonites fought off their Edomite cousins and then turned on each other! Just as we see played out in Redemption, Jehoshaphat saw the evil forces 'bounced' before they could ever raise a sword to him.
When the army of Judah finally walked the battlefield, they found only dead bodies, neither survivor nor fugitive. God blessed them with so much plunder it took 3 days to collect all the equipment and riches. Even then, Jehoshaphat did not forget to praise God! On the fourth day, he led the armies back Jerusalem where they worshipped God with trumpets and harps!
God has never lost a battle. Therefore, Jehoshaphat but his faith in something… Someone… who would never fail.
So let us all, like King Jehoshaphat, live daily by faith. Let us give God praise even before we see the victory!
Questions to Consider
What are some things you do each day that require having faith in something?
What gives you confidence that those things will happen or will work?How could celebrating God's victories help your perspective today?
To buy singles, sealed product, and other gaming supplies mentioned, please visit Three Lions Gaming!